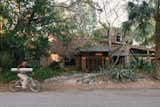 Editor's Letter: Home and Away
Our annual travel issue looks at how the places we go influence where—and how—we live.
An old subway token from Philadelphia. One Turkish lira found on an Istanbul street on a really good day. A vintage ashtray from the (West) Berlin Hilton, acquired at a Minnesota flea market. These and many more objects that I've picked up while traveling are scattered around my Brooklyn apartment on more or less public display. Not just mementos from trips taken, they are reminders of the way travel has shaped how I think and what I value—enough so that they've become part of the design of my house.
Join Dwell+ to Continue
Subscribe to Dwell+ to get everything you already love about Dwell, plus exclusive home tours, video features, how-to guides, access to the Dwell archive, and more. You can cancel at any time.