In celebration of our tenth anniversary, we tracked down the residents of 15 of the 19 homes we featured in Dwell's first year to find out who's stayed put, who's moved on, and how their modern houses have fared.
Newsletter
Join the Daily Dose Mailing List
Get carefully curated content filled with inspiring homes from around the world, innovative new products, and the best in modern design
In the late 1990s, inspired by John Lautner's famously gravity-defying Chemosphere House, Bryce and Rochelle Jaime commissioned a floating home of their own on the steep slopes of Pasadena, California. Its nickname: the Levitation House.

Residents: Bryce and Rochelle Jaime, moved to another home in 2003
Project: Jaime Residence Architect: Escher GuneWardena Architecture
Location: Pasadena, California
Issue: February 2001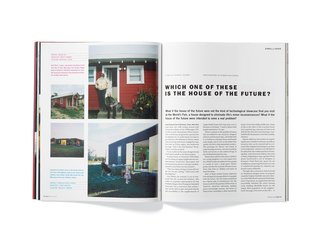 We've since moved to Glenhaven, a little suburb 20 miles northwest of Sydney, Australia, to spend more time with my family. The kids miss the house. They have very fond memories of it. My oldest wants to go back and buy it one day. I enjoyed the views tremendously as well as the open slope of the land. The house felt a lot bigger than it really was with all the glass and the views that brought the outside in.We've held off on building another house because I launched an IT company called Levitar, which means "to levitate" in Spanish. The business was named after the home. —–Bryce Jaime

On the southern fringes of the Portland metropolitan area, Jerry Waters turned a 600-square-foot "dumb box" of a design into a piece of architecture clad in cement board and originally planned to add a 4,800-square-foot main home nearby.

Residents: Jerry and Anna Waters, moved to another home in 2006
Project: Jeddeloh Guest House
Architect: Jerry Waters, now practicing at Dull Olson Weekes Architects
Location: Molalla, Oregon
Issue: February 2001
The 600 square feet became too few for growing children, and we weren't able to build the main house at that time due to cost and timing. The house had two rooms. We'd put the queen-size Murphy bed down at 8 p.m. so the kids could go to sleep. We'd work in the grand room until 11 p.m., then pick up the kids, transfer them to the sofa bed, and then we'd go to bed. We did that for four years.We moved into a craftsman in downtown Portland. It's only 1,080 square feet, but it got us a second bedroom. We still own the property in Molalla. My wife still has dreams of having goats, making goat cheese, and living the rural life. It's hard to say what we'll do with it. —–Jerry Waters
Architect Michael Hughes playfully nicknamed the curving house he designed for his aging parents "The Home." The design might be better suited for Bilbao, Spain, than Eastanollee, Georgia, but there's no place Barbara and Joe Hughes would rather have retired.
Residents: Barbara and Joe Hughes
Project: The Home
Designer: Michael Hughes, Catovic Hughes Design
Location: Eastanollee, Georgia
Issue: February 2001
I broke my heel in 2001 and was in a wheelchair for several weeks. Since then, I had back surgery and was using crutches and a wheelchair for a while. Both times the walk-in shower came in handy because I didn't have to climb into anything. There's also a ramp down to the living room so I could go anywhere on the main floor that I wanted. Upstairs, there's a master bath and bed-room for guests as well as a living room and a sewing room, which we still use. The purpose was to make us go up and down for as long as we can. I like being with a person the first time they see the house. I like to see their surprise. We really get a kick out of it. —–Barbara Hughes

Though the roof of architect Eddie Jones's Phoenix home doesn't blend in with the traditional Spanish tiles of his Southwestern neighbors, its two-foot-thick rammed-earth walls were designed to last as long as the ancient ruins scattered around the state.

Residents: Lisa Johnson and Eddie Jones
Project: Johnson/Jones Residence
Architect: Jones Studio
Location: Phoenix, Arizona
Issue: June 2001
The desert has grown up around the house, making it feel as if it has been part of the landscape forever. The critter population has gone up, too: javelinas, foxes, raccoons. We love it.We don't need as much space as we have. In retrospect, I would have made it smaller. Our computer-operated lighting system, all those whistles and bells, is overrated. We could have achieved the same thing with a simpler program. The walls will be here for another thousand years. They've held up extremely well with zero maintenance, and I fully expect those walls to outlast everything else. —–Eddie Jones



Three times a year, Minnesota residents Mary Beth and David Koehler answer the call of the crashing Atlantic waves by heading to New Brunswick's coastal cliffs and their steel-and-glass home designed by Julie Snow Architects, Inc.

Residents: Mary Beth and David Koehler
Project: Koehler Residence
Architect: Julie Snow Architects, Inc.
Location: Seeley's Cove, New Brunswick
Issue: August 2001
The North Atlantic sea is an unsympathetic host. There's a lot of salt in the air that damages anything that isn't stainless steel, and there's always the issue of things being too wet, too long. It's like being on a ship. The weather dictates where you sit, how far open the doors are, whether you have a fire on. We only take the table out to the dining deck in August, but we're often out there with our coffee watching the sunrise. When the tides come in there's a sucking sound the ocean makes hitting the shore; it's very intoxicating. It's a worry to have something as far away as it is, and it's a lot of upkeep. It breaks my heart, but we'll have to sell it at some point. —–Mary Beth Koehler

Rising above the trees in Fayetteville, Arkansas, is James Keenan's tree house—–a modern tribute to the one he and his grandfather built years ago but left behind when his family moved to Italy a few years after its completion.


Residents: James and Stacy Keenan
Project: Tower House
Architect: Marlon Blackwell
Location: Fayetteville, Arkansas
Issue: August 2001
We've had people propose in it, had weddings in it, pre-wedding parties, graduation parties. It's become a celebration tower more than anything else. When I have more time for it, I'll probably use it as a meditation retreat. When you move into your 40s you start thinking about yourself in your 60s. I asked Marlon if he ever thought about building an elevator in it. He said, "I really hope you'll give the keys to your children and just walk away," which we'll do. I have photographs of three stages as the original tree house my grandfather built for me was going up. We're about two years away from re-creating it with our kids. —–James Keenan