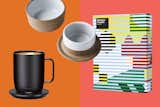 The Top 16 Products Dwell Readers Bought in December 2022
Whether it was an inspired present or a salve to help get through the season, here are December's most popular buys.
From gear to brave nippy mornings or weather a winter bonfire, to apparatus to ease the cooking or ace the plating, and toys abound for human and non-human alike, Dwell readers bought gifts in December that work just as well for any occasion throughout the year.


Shared meals are just that sort of event that seems to crop up every now and then—and the Always Pan promises to come in handy.
If you chose one of their six colors to match with these butter keepers (or anything made by Sawyer Ceramics), it might not matter what you cook. You would look amazing doing it.
Poppy enough to catch the eye, but not enough to steal the stage, these vintage-inspired cake stands are peak photogenicity for potlucks and bakeoffs.
A free tip when it comes to shared meals: don't be afraid to bring the hot take. This chili paste might just do the trick.
If that seems too risky, consider hedging your bets. Japanese snacks—especially if they're packaged as cutely as these—are ever the crowd-pleaser.
Gone are the days when "join us for dinner" meant just that. Expect a group activity of some sort. While you could wait to see what lay in store... you could also bring something yourself.
Surprisingly underrated for a spell, puzzles are getting the recognition they have always deserved. These designer options by Dusen Dusen are a case in point.
If abstract geometry isn't your thing, consider this nostalgic puzzle of a vintage match collection.
And if puzzles aren't your thing, paint-by-number kits promise the same engagement while encouraging calm of mind. This one looks good enough to keep on display when finished.
If all else fails, you could just escape to the coziest hideout you can find. But there is a way to do that right. First thing first: find the perfect bag. Somehow both cute and outdoorsy, this one could be it.
This portable whisk makes frothing lattes easy, adding variety to your caffeinated comfort.
After all that effort, what a shame it would be to let the coffee grow cold—or worse, lukewarm. With Ember Mug2, the countless cups of tepid caffeine are behind you.
Drinking caffeine all day does not seem to be recommended. If you're one to switch to spirits come evening, these glasses will showcase amber-dyed models of real mountains as you unwind.
Slippers are the ultimate in cozy. What if you didn't have to feel guilty to bringing that comfort outside? That's exactly what these boots let you do.
Surprisingly overlooked when hiding out, your favorite towel is an essential. If you don't have one, these Japanese towels offer soft, terry-cloth magic.
Do not forget your cat! It deserves as much love, comfort, and indulgence as you do. At least one of these 24 assorted catnip toys ought to be a hit.
We love the products we feature and hope you do, too. If you buy something through a link on the site, we may earn an affiliate commission.
Get the Shop Newsletter
Smart shopping for the design obsessed. Find what you love in our expertly curated selection of finely crafted home, office, travel, and lifestyle products.