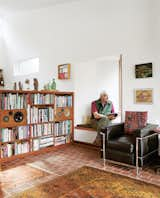 Dwell Picks: The 11 Books We're Cozying Up With Right Now
There's no better way to spend a cold day than indoors with a good book. Here are the ones we've been reading and won't stop talking about.
Jenny Xie, Executive Editor:
"Powerhouse poet Ocean Vuong—who just won a MacArthur 'Genius Grant'—makes his fiction debut with this tenderhearted novel, written in epistolary form to his mother, who doesn't speak English. It's a meditation on place and identity, from war-torn Vietnam to rural America."
"This dreamy collection of off-grid homes celebrates sustainability and self-sufficiency, and also a spirit of adventure."
Sam Daly, Associate Editor:
"This is a wholly excellent read."
"A great biography on the quietly influential botanist David Fairchild. If you've ever had a question about where the produce we put on our table comes from, this is the book to add to your shelf."
Erin V. Mahoney, Community & Social Media Manager:
"I'm surprised the term 'Scandiphile' has yet to make it into the English lexicon, but you saw it here first. As a self-described Scandiphile, this tome is a no-brainer."
Maris Berkowitz, Marketing & Sales Assistant:
"Four words: I love Sea Ranch."
Lauren Conklin, Editorial Fellow:
"This is so much more than a cookbook; it's more like a collection of recipes and conversations with incredibly cool people from all over the world. Like a potluck dinner where everyone brings a super inventive and representative dish, then William Wegman's Weimaraners stroll in and steal the show. The only cookbook I've read cover to cover."
"My admiration for Georgia O'Keefe knows no bounds, and her connection to so many key players in the design world of the 20th century is baffling. Unsurprisingly, her own approach to the interiors of her two New Mexico homes is outright beautiful in a way that both inspires and is inspired by her artwork."
Jim Redd, Lead Developer:
Haley Heramb, Branded Content Manager:
"As the weather is getting cooler, I'm cozying up at home dreaming of my next trip to warmer places. I'm a sucker for a well-designed hotel and find myself flipping through the pages of the Design Hotels Book to inspire my next travel destination."
"I can't wait for this to come out next year!"
Get the Shop Newsletter
Smart shopping for the design obsessed. Find what you love in our expertly curated selection of finely crafted home, office, travel, and lifestyle products.