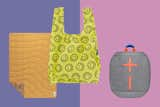 This Summer Is All About Kicking Back, Pool Hangs, and Day Hikes—Here's What I'm Adding to the Mix
Dwell editor Duncan Nielsen makes his top picks for an unhurried season.
The pandemic taught me a valuable lesson I didn't see coming: that there's a lot to be said for slowing things down. Over the past two-plus years, when social engagements barely existed and RSVPs to the ones that did were an empty "maybe," my FOMO vanished and the pace of life felt perfectly manageable. Now that we're headed into warmer weather—and the social calendar is starting to look a lot more like it did in the before times—I'm reminding myself that the best way to savor the season is to take it at my own pace. Here's how I'm getting the most of summer 2022.

You just pre-batched perfect Palomas to sip poolside, so why take 'em down a peg by serving them in plastic? Stay classy, I say, and pour them into these shatterproof tumblers (which are plastic) but have the look and feel of glass. The amber and sage colors have "summer fun" written all over them.
On the topic of libations, La Gritona is this season's sipping tequila. Distiller Melly Barajas and her all-women staff in Valle de Guadalupe make a reposado so smooth that taking down a thimble or two at sunset is a little too easy. You do you—just remember to share.
This grapefruit-sized bluetooth speaker from Ultimate Ears can go with you everywhere. Clip it to your backpack on a hike, toss it on an unfurled blanket at the park, or put it in the cupholder of a floaty at the pool. It's got a rugged, waterproof design, so you don't have to be all that precious with it (i.e. good if your prone to spilling your spritz).
Camp collar shirts are never really in style, but they're also never really out of style, either. Corridor managed to freshen up the look with a short sleeve button down that has a patterned linen weave so beautiful I could wear it every day. The variations in both the texture and color really are just gorgeous.
You can't talk about summer without mentioning seersucker. If you aren't afraid of showing a little thigh (but not like Burt Reynolds amount of thigh), Banks Journal's swim shorts have a modern cut with a sharp look. They're of course lightweight and quick drying, which is what makes the fabric choice for high humidity and simmering heat alike.
Your woven basket is cute, but it doesn't keep the brie from becoming a puddle, and those snappy bubbles from going flat as a deflated bike tire. Keep your pét-nats and pasta salads chilly in Pelican's insulated backpack cooler for a properly chill picnic, whether it's around the corner from your house or ten miles down a trail.
I love carrying a pair of binoculars on hikes, but hate wearing them around my neck at every moment. For the casual birder, this monocular from Nocs can go in your pocket so it's at hand whenever you want it. Using one makes you feel like a scout, and everyone on the hike will be asking to try it. (If binos are your thing, try the company's standard issue.)

Woven blankets always bring the outdoors in, no matter how much you shake 'em. Leave that job to the floor-to-ceiling windows, and go with Snow Peak's quilted blanket instead. It's made of a polyester and nylon blend that doesn't pick up debris, and the fire-resistant materials let you cozy up to the flames for perfecting s'mores.
Speaking of s'mores, Snow Peak has a flat-pack firepit in a few different sizes: one that could easily be a fixture on your back patio, and a few smaller ones for toting to the outdoors or the beach. Each comes with a nylon carry case so you can throw it over your shoulder. If roasting 'mallows is intended as the follow up to the main event, grab the entire grill set, which includes the firepit.
This is thee summer tee. 45's shirts are lightweight for warmer weather, and the cut and sizing are, in my opinion, perfection. They have that lived-in quality that makes it feels as if you're wearing nothing at all in the best way possible. There are also a ton of colors to choose from—at $95 for three, you can take a mix of your favorites.
After ruining enough shirts around the grill and in the kitchen, I finally took the time to figure out my apron identity. The message-tee equivalents like "Kiss the Chef" weren't really my style, but Snow Peak's apron, with its durable, heavyweight fabric and pocket-covered front, absolutely is. Since I'm often after that perfect char, I sprung for the blue color.
I included Baggu's bags in my summer essentials list last year, and my love for them has not waned. It truly bums me out to take a single-use bag from a store, so I carry these with me whenever I can, whether I'm grabbing a few limes, cans of cider, or Caeser salad fixings. The construction is super sturdy, but the fabric is so lightweight that I can actually stuff them into the pockets of my jeans on a walk.
The break-in period with these takes dedication. But anyone that can commit to two weeks of kind-of-uncomfortable wear will be rewarded with a soft-yet-handsome slipper that's molded to your foot. After that, the durable shoes will be your go-to's for jaunts to the corner store, picnics in the park, or just morning coffee in the backyard. Wear them for years to come.

For anyone lacking the pluck or perseverance for a custom-feeling fit, Luca's huaraches are, out of the box, like snuggling your foot into a cloud. The souls of the shoes are made from a rubber the company calls "heaven's milk," and the uppers are a velvety soft leather.
If you still haven't figured out sunscreen, this is the answer. Supergoop's solution rubs in easily, and comes with a 50 SPF rating (that means it'll take 50 times longer for your skin to redden than if you weren't wearing any sun protection). Purchase it in a large pump-top container, and set it by the door and forget it. Or, snag the very packable size for hikes, the beach, or the pool.

Get the Shop Newsletter
Smart shopping for the design obsessed. Find what you love in our expertly curated selection of finely crafted home, office, travel, and lifestyle products.