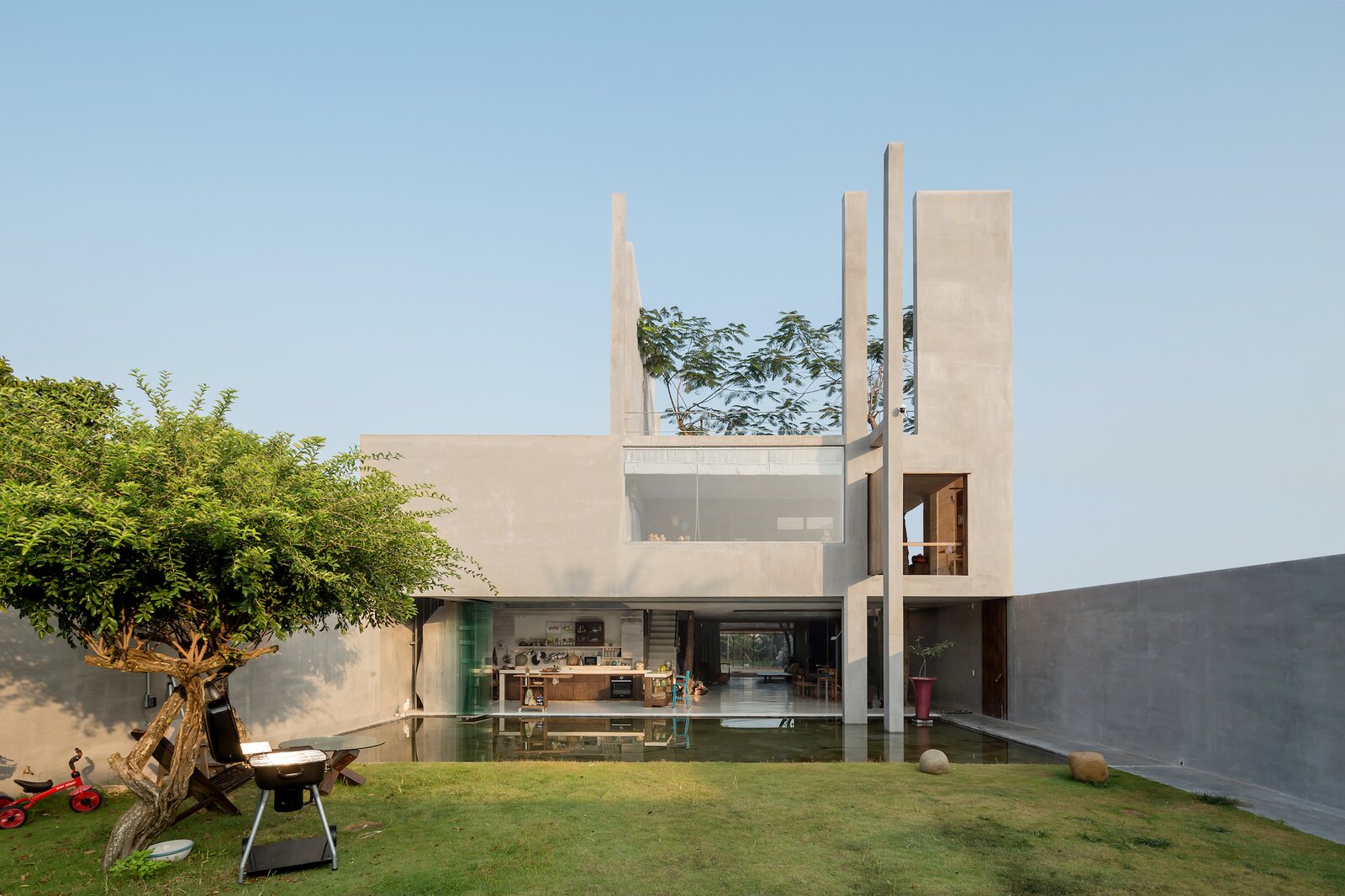 Three Trees Grow Through a Tranquil Home for a Pho-Making Family in Vietnam
A pair of young restauranteurs commission a live/work home that celebrates slow living and a strong connection to nature.
The playful, nature-focused aesthetics of Gerira Architects are brought to life at the Da House, a contemporary sanctuary for a family of four where living trees grow through concrete floors.
The clients, a young couple who run the Phở Dạ restaurant chain in Thủ Dầu Một, tapped the Ho Chi Minh City–based architects to design their house after they fell in love with the firm's work on the Ma House, a tree-filled residence in Hue, Vietnam.
"They wanted a house that included a small workspace for their restaurant business," explain the architects. Accordingly, the firm worked closely with the clients to create a prep area where pho—a Vietnamese soup composed of rice noodles, long-simmered bone broth, meat, and vegetables—can be made every morning and brought to the restaurant in the city.
"They also wanted a place where their children will grow up in an environment attached to nature," says the firm. To create this connection, the clients selected an undeveloped plot in the rural outskirts of the city.
The long and linear site is divided into three main spaces: the entrance area, the main house, and the pho workspace in the rear. These areas are separated by two landscaped spaces planted with a variety of local fruit trees including plum, cherry, starfruit, and longan fruit.
Three red poinciana trees—valued for shade and summer flowers—grow through both floors to provide shade on the rooftop terrace.
While these tall trees draw the eye upwards, a wide pool of water next to the open-plan living space on the ground floor brings the eye outwards to the spacious rear lawn while simultaneously drawing cool air into the home. On sunny days, light reflects off the water and onto the ceiling, adding dynamic interest to the indoor living area.
The private spaces, including the bedrooms and family den, are located on the upper floor to allow for an open-plan ground floor that completely opens up to the backyard landscape.
Shop the Look
Contemporary and minimalist, the Da House features a restrained palette of locally sourced materials set against a backdrop of concrete walls. Reclaimed wood was used for interior surfaces and furnishings, which were built on-site by local craftsmen.
"We were inspired by the way our clients live: plain and heartfelt," explain the architects. "Our main inspiration for the Da House is how the young couple lives slowly in a fast, modern society."
Get the Dwell Newsletter
Be the first to see our latest home tours, design news, and more.