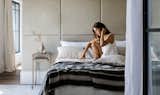 Cultiver's Breezy Linen Will Make You Love to Be at Home
Effortlessly comfortable home textiles and loungewear made out of the same material as my sheets? I'm sold.
A house may have chic styling and a fresh coat of paint, but if I can't curl up on the sofa with a throw blanket, have a cup of tea, and find a moment of peace, it's not yet a home. The easiest way to bring a little hygge into your life? Curate the things you use every day. Among our favorite textile brands, Cultiver shines as a timelessly beautiful creator of everyday goods built to last.
"Our customers know that the little things can make a real difference to how we live, and my vision for Cultiver is to offer a curated collection of the best items for our homes that can make everyday more enjoyable as we use them," explains Nicolle Sullivan, founder and CEO of Cultiver.

Muted, earthy tones paired with European flax linen deliver immediate zen, and the wide array of colors make it easy to harmonize with your existing decor.
Cultiver offers bedding, throws, table runners, and cushions with thoughtfully sourced materials ranging from stonewashed linen to patterned silk velvet. And, with strikingly refined lounge sets made out of the same light and breathable linen as their bedding, the universal fantasy of blankets-as-clothes can become a reality.
With sheet sets starting at $325, Cultiver is the perfect option for anyone looking to nurture lasting softness in their space at a fair price. When it comes to your everyday rituals, they've got you covered (literally).
Get the Shop Newsletter
Smart shopping for the design obsessed. Find what you love in our expertly curated selection of finely crafted home, office, travel, and lifestyle products.