Compact, Light-Filled Prefab
Recommended by
Method Homes' compact Element 1 prefab model rises to the challenge of a difficult building site.
Karen Kiest's plot of land on Marrowstone Island, Washington, came with a surfeit of scenery—it overlooks Puget Sound—but suffered from a dearth of buildable space. The lot is near a bluff and a stream and has a wetland on and adjacent to it. "The [house's] footprint became critical," says Kiest, a landscape architect. She considered modular construction as a way to streamline the building and permitting process for her weekend retreat, and researched a slew of firms. The clincher was finding out that architect Chris Pardo was developing a line with Method Homes.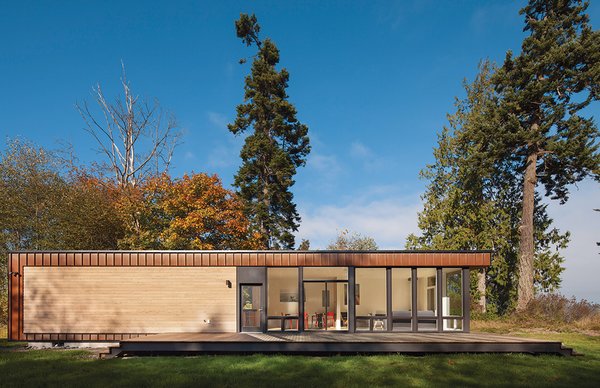 "Besides the great stable of architects, I selected Method because its cofounder, Brian Abramson, was so enthusiastic," Kiest says. "I was glad I chose the company when I visited their building facility and realized it wasn't a 'factory,' but just a bunch of great guys creating beautiful structures." Consulting with Pardo, Kiest selected the 800-square-foot Element 1 model. "Larger prefabs are impressive, but while this design's footprint is small, it has floor-to-ceiling windows and high ceilings and gorgeous fixtures. Who could need anything more?"  
Details
Project: Kiest Residence
Diana Budds
@dianabudds
A New York-based writer, Diana studied art history and environmental policy at UC Davis. Before rising to Senior Editor at Dwell—where she helped craft product coverage, features, and more—Diana worked in the Architecture and Design departments at MoMA and the San Francisco Museum of Modern Art. She counts finishing a 5K as one of her greatest accomplishments, gets excited about any travel involving trains, and her favorite magazine section is Rewind. Learn more about Diana at: http://dianabudds.com
Comments
Everybody loves feedback. Be the first to add a comment.
The author will be notified whenever new comments are added.