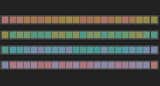 Color Test
You read Dwell. You like to think that you have a good eye for design. But how good is your eye really?
Take X-Rite's online color IQ test and find out. If you can arrange the color-hue swatches in order, you'll be rewarded with a score of zero. Crank up the monitor, close the shades, and dust off that art school degree.
Get the Dwell Newsletter
Be the first to see our latest home tours, design news, and more.