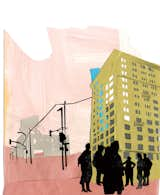 Co-op
"It is really different from anything else," explains David Burcher, who bought a co-op apartment in Manhattan with his partner, Greg Broan, almost a decade ago.
"In many ways, the whole process feels like you're being violated—it's just so tedious."
Join Dwell+ to Continue
Subscribe to Dwell+ to get everything you already love about Dwell, plus exclusive home tours, video features, how-to guides, access to the Dwell archive, and more. You can cancel at any time.