View Photos
Budget Breakdown: A Young Couple Turn a Termite-Infested Shack Into a Luxury Home For $46K
Eager to test their design chops, an American couple go to Costa Rica to tackle their first design-build challenge—for under $200 per square foot.
Tired of the daily grind and city life, junior architect Mike Donahue, 27, and self-taught designer Lauren Walker, 30, packed two suitcases—and their poodle—and left the U.S. for the tropics of Costa Rica. But it wasn't a vacation that the couple sought—they wanted creative freedom, and saw the move as a chance for a year-long "self-guided study abroad," where they would design and build in a different culture.
$7,000
Original Structure
$2,136
Demolition
$1,326
Plumbing
$4,620
Exterior Walls
$4,803
Interior Walls
$3,155
Electrical
$1,326
Gutters & Drainage
$2,777
Doors & Windows
$2,568
Paint
$1,077
Woodwork
$4,435
Kitchen
$1,912
Bathroom
$2,725
Furnishings
$1,645
Flooring
$4,776
Miscellaneous
Grand Total: $46,280
Get the Renovations Newsletter
Get carefully curated content filled with inspiring homes from around the world, innovative new products, and the best in modern design.
"Without a real plan, we went on Costa Rica's version of Craigslist and found literally the cheapest house in the country within two weeks of arriving," says Mike. They purchased the home in August 2018 for a mere $7,000.
"It had an amazing view, perfect climate, and access to water and electricity, so we offered half of what they were asking, and it was ours. It very quickly became evident most of the building had to go. It was a termite-infested nightmare made of diesel-soaked palettes originally built as a very cheap rental cabin."
Although the house was in bad shape, the design duo strove to reuse everything that was salvageable to keep costs low and minimize waste out of respect for Costa Rica's reputation for sustainability. The rebuild was kept within the home's existing 1,185-square-foot footprint to reduce permit costs. The couple stayed within—and occasionally camped outside of—the house for most of the renovation process, which lasted seven months. On weekends, they stayed in San Jose to rest, source materials, and regroup for the next week.
With help from a local contractor, Mike actively led a small local workforce. He also oversaw the demolition, design execution, budget, and purchasing decisions, while Lauren helped with sourcing, interior design, and finishes. The pair drew on their experience in design and construction gleaned from the workplace, their family, time spent together restoring classic sailboats, and an ongoing 1900s farmhouse renovation project in Michigan.
Grappling with a foreign language and cultural differences weren't the only challenges Mike and Lauren faced. Since they started rebuilding during the rainy season, torrential downpours, scorpions, and a couple 6.0-magnitude earthquakes threatened to derail plans. The couple likened sourcing materials to a "treasure hunt" that took them from the underbelly of San Jose to the thick jungles outside Uvita.
"Very quickly it became clear this was more than just a building's renovation," explains Mike. "We were learning how to embrace the symbiosis between each other and of the built and natural world, and how to respect its role and our role. Very rarely during the entire process did we have access to Internet, which in retrospect was a blessing. Learning how to trust just yourself, your experiences, and the moment became inherent to our process. Detached from the pressure of precedents, and Pinterest, expectation, and Amazon, we were able to remain completely present with ourselves and builders."
Shop the Look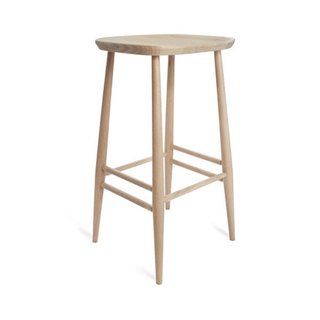 Thanks to their active role in design and construction, skill in sourcing and reuse, and Costa Rica's lower labor and material costs, the couple completed the renovation for just $46,200 in April 2019. They named the renovated two-bedroom house Casa Terrosa (or Earthy House) for its close relationship with nature.
Mike and Lauren currently live in the house, but they have plans to sell it—it's currently on the market—after which they will return to San Francisco with hopes of tackling more design-build projects down the road.
"We came for the tremendous natural beauty, but low cost of access," say the couple. "We have stayed because of a culture that deeply believes in life far beyond materialism. And when you are designing, that is an important lesson. This is a land where yearly salaries average $12,000 a year, yet is consistently ranked as one of the world's happiest countries—there is a contagious contentedness here we realized we were missing."