View Photos
A Shingle-Clad Prefab Anchors Itself on Patagonia's Largest Lake
Prefab construction makes it possible for SAA Arquitectura + Territorio to build this impressive retreat in a remote region.
In wild, rugged Patagonia, Chilean architectural firm SAA Arquitectura + Territorio has crafted a comfortable and contemporary home in a notoriously inhospitable environment where access to materials and labor is limited.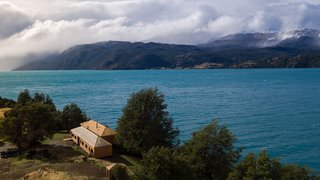 Newsletter
Join the Prefab Homes Newsletter
Get carefully curated content filled with inspiring homes from around the world, innovative new products, and the best in modern design
The challenges posed by the remote terrain were a tradeoff for the site's spellbinding beauty. The Santiago–based client selected a spot on the shores of the largest lake in Patagonia, Lake General Carrera, for its turquoise-blue waters, snow-capped granite mountains, and glittering glaciers in the distance.
To mitigate the harsh construction conditions, the architects turned to prefab construction. For strength and efficiency, SIP panels were used for the floors, walls, and roof. Local carpentry techniques were applied to the detailing, crafted with native wood, as a nod to the local Patagonian vernacular.
Thanks to prefabricated construction, the house was built over the course of five months and anchored directly into bedrock for a foundation strong enough to withstand the region's unforgiving climate.
"The main design was to make a project that could be related to the landscape, at the same time providing a comforting interior and common hierarchical spaces," say the architects, who named the house Casa Sombreros.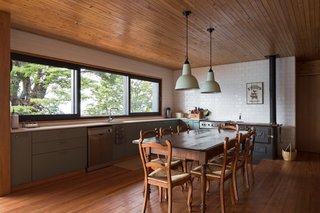 To maximize east-facing views of the lake and access to natural light, the residence is arranged as two slightly offset pavilions set parallel to the lake for northeast orientation. The volume closest to the lake extends towards the north and comprises the common areas and the master bedroom. The secondary pavilion contains four additional bedrooms linked by a long hallway with views of the lake.
Sheathed in wood inside and out, Casa Sombreros has a distinctly rustic feel that's underscored by its low-profile, gabled silhouettes and use of traditional building techniques.
"The project aspires to be timeless by way of resolving the exterior cladding with a single material, the lenga shingle, a finish which binds the house to local building traditions," explain the architects.
The home's modest footprint takes care not to disturb the land. "The architectural detail enriches the concept of a refuge by revealing its constructive will toward amplitude and transparency achieved through the steel and glass enclosing an interior which, immersed in nature, blends in instead of standing out," say the architects.