Can You Believe This House Used to be a Dilapidated Toolshed?
An architect and an interior designer put the tools to the test for this impressive renovation.
In 2009, when Alan Orenbuch and Bryan O'Rourke settled into the home they had purchased as a weekend retreat in upstate New York, they gave little thought to what Orenbuch describes as an "unfortunate" shed, perched on stilts on a nearby slope. The main house, an idiosyncratic modernist experiment that the architect John M. Johansen designed in 1974 as his own residence, was the draw and the natural focus of their initial attention. Orenbuch, an architect, and O'Rourke, an interior designer, took meticulous care to preserve the character of the house by refurbishing the interior and furnishing it with vintage items from O'Rourke's collection.
As much as they had fallen in love with these new quarters, the couple found that the house—an open volume, with few interior walls and living spaces defined primarily by overlapping floor planes at various elevations—lacked the visual and aural privacy they needed given the frequent rotation of visitors passing through most weekends. After enduring one particularly restless morning involving a breakfast prepared at high volume directly below their bed, Orenbuch and O'Rourke turned their attention to the unsightly brown-and-pale-purple shed outside and began to consider its potential.
"It was actually our Realtor who first suggested the idea," Orenbuch acknowledges. When they were first shown the house, he says, she suggested offhandedly that the dilapidated structure might serve nicely as a guesthouse.
Much would be needed to get it in shape, however. Cluttered and dusty, with crumbling ceilings and scarcely any natural light, the original shed offered only the simplest structural framework as a starting point. Johansen, who designed the shed to be plain and inconspicuous in deference to the main house, occasionally used it to house visiting family members during his years there, but it met only the minimum requirements for keeping guests. It was poorly insulated and included an outhouse-style toilet in lieu of plumbing.
Before getting to work on plans for the renovation, Orenbuch sought out other projects by Johansen and his contemporaries for inspiration. Johansen was part of the influential set of postwar architects collectively known as the Harvard Five, a group that also included Philip Johnson and Marcel Breuer. Taking cues from the elegant, modern homes designed by Johansen and the other Harvard Five architects, Orenbuch chose to pare down the shed to a simple rectangular box with a glass curtain wall along the northwest facade.
The window wall was the most important aspect to get right, as it would be the only prominent feature of the renovated exterior. "I must have spent three months just looking at that window," Orenbuch recalls of the planning process. Inside, the payoff is immediately clear: The glass panes neatly divide the 385-square-foot space into quadrants, delineating separate areas for living and sleeping, joined by a short corridor. With the addition of plumbing, a skylit bathroom was tucked behind the hallway and a simple, galley-style kitchenette.
Orenbuch and O'Rourke have found that having a separate guesthouse is far more peaceful than sharing space in the main house. Now, visitors who stay the night linger as long as possible in the former shed before ambling over to the main house for breakfast. "They like it out there," O'Rourke says. "Or it could just be our personalities."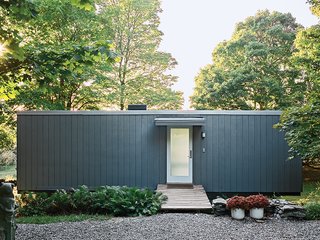 Get a Daily Dose of Design
Sign up for the Dwell Daily Newsletter and never miss our new features, photos, home tours, stories, and more.