Budget Breakdown: A Stunning Apartment Revamp Mixes High and Low For Under $100K
Efrat Weinreb combines high-end pieces with low-cost scores to transform a tired apartment in Tel Aviv with a budget of $100,000.
Architect Efrat Weinreb and her husband were strapped for cash after buying their first home in Tel Aviv, yet the couple were confident they could still give their dated apartment a chic, modern makeover without breaking a strict budget of $100,000 USD.
$7,200
Demolition
$2,300
Construction
$8,300
Plumbing
$7,200
Electrical
$5,200
Plastering & Painting
$13,000
Flooring & Tiling
$3,700
Quartz Counters
$4,500
Kitchen Cabinets
$75
Cabinet Handles
$6,500
Bathroom Fixtures
$3,400
Lighting Fixtures
$12,900
Windows
$13,000
Carpentry
$3,000
Radiators
$2,200
Air Conditioning
$1,500
Appliances
$5,000
Furniture


Grand Total: $98,975
Before: the living room was originally fitted with screen doors and a tiny outdoor terrace.
Efrat Weinreb
Newsletter
Join the Renovations Newsletter
Get carefully curated content filled with inspiring homes from around the world, innovative new products, and the best in modern design
Achieving the apartment of their dreams, however, would be no easy task. Their two-bedroom, 974-square-foot unit required a complete overhaul that not only meant costly demolition and new plumbing, but also home decor shopping.
Fortunately, Efrat, founder of WE Architects, drew on her professional experience and online shopping savviness to keep their budget in check. Turning to sites like Ali Express and IKEA, she saved up to $6,500.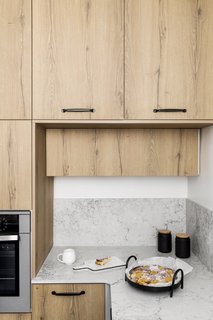 "When we started window shopping for the renovation we realized that the look I wanted did not match the budget we had, so I started thinking about ways to cut down the expenses," says Efrat.
Efrat purchased the discounted items only after getting the approval of her contractor and meticulously checking reviews for quality and durability. "I was delighted with how much money I managed to save and, almost a year later, everything is still working perfectly," she says.
Strategic shopping left room in the couple's budget for designer pieces. "I have a $4,000 dining table with a $40 IKEA bench next to it," she says. "I love mixing high-end pieces with low-cost items."
Also critical to the redesign was the removal of walls to create a more open and airy layout. In particular, the new kitchen and glass-walled study help inject much-needed natural light into the formerly dim apartment.
"When you have a limited budget, you need to prioritize what essentials you will spend the majority of the budget on, and then what items you'll choose from the lower-end range," notes Efrat. "You need to have everything in balance."