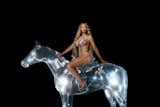 In Beyoncé's 'Renaissance,' Heaven Is a Place in the Club
On her seventh solo album, the singer explores every corner of late-20th-century nightclubs, which offered joyous spaces for those whose lifestyles were deemed immoral.
The most iconic photograph to emerge from Studio 54 was that of Nicaraguan model and party queen Bianca Jagger perched atop a white horse on her 32nd birthday, in 1977. Her hair was softly curled in a '70s bob; she wore a crimson Halston gown and seemed to clutch a balloon. Though she did not ride the horse into the world-famous nightclub (contrary to popular belief), the image, shot by Studio 54 chronicler and otherwise legendary photographer Rose Hartman, has endured as a emblem of the profusive mega-disco era, of its star power and the dazzling, nearly feral impulse to outdo one another in extravagance. It was a document of infallible glamour in a time of upheaval, in which the marginalized and politicized—not just at Studio 54, but at clubs and hovels across New York City—released their woes on the dance floor, delivered by music and the basic element of physicality.

Beyoncé mines that specific feeling of liberation through the cover image from Renaissance, her seventh solo album and Act 1 of a planned trilogy, full of dance-minded singles. Building on the Jagger photo, and its sense of place and time, Beyoncé sits on a disco-mirrored steed, crimped blonde hair cascading down upon her crystal-encrusted bikini (if it can be called that), with a stare into the camera lens that is both regal and commanding. The image has also been compared to Lady Godiva, the 1897 painting by John Collier depicting the English noblewoman's fabled nude ride of protest through Coventry—but Collier's Godiva is hunched, her expression one of shame or penitence. Beyoncé's posture is taut, and in subsequent images from the album—Poses 1 through 4, imprinted on T-shirts which sold out as part of box sets weeks before Renaissance's release, sight unseen and album unheard—she cycles through vogue-style dance poses that reflect a sense of comfort within her body, siphoning joy from the night and the beat. The horse invokes the party and also reflects her Texas roots.
The album art is a series of images that pay homage to the moments in club history shaped by Black and queer trailblazers that influenced Renaissance's music.
These images, and a collection of others subsequently released on her website, connect the excess of the '70s and early '80s to the digitized present, linked through Vantablack-ish backgrounds, typewriter font, and liquid-y disco ball .gifs that feel both retro and exceedingly current, evoking the aesthetics of '20s CGI influencers and '90s rave fliers alike. The pared-down graphics offset the maximalism within the photographs, shot by Carlijn Jacobs, whose work in fashion is full of sharp contrasts and surprising composition, with a slight aura of '70s aesthetics. Together with Beyoncé's art director Andrew Makadsi, who most recently designed her unforgettable, tennis-ball themed performance of "Be Alive" in Compton for the Oscars, the album art is a series of images that pay homage to the moments in club history shaped by Black and queer trailblazers that influenced Renaissance's music, drawing on its excess, pleasure, and sexual freedom. Through them, she signals a storied past, one that starts with her late Uncle Jonny, who died of HIV complications, and to whom she dedicated this album. "He was my godmother and the first person to expose me to a lot of the music and culture that served as inspiration for this album," Beyoncé wrote in the liner notes, beneath a photograph of her children and another with Uncle Jonny in a club with her mother, Tina Knowles Lawson. ("He made this dress for me," Knowles Lawson wrote in a tribute on Instagram.)
In one of the album photographs by Jacobs, Beyoncé struts down a concrete floor wearing a sculptural gold halo. A fold-out table of trophies flanks her left; a woman in pink latex gloves and a lacy fan is on her right, and a person covered in silver paint sits before her. The photograph is kinetic, the motion of walking in an underground drag ball implicit; it's an homage to Bronx drag icon Pepper LaBeija, who walked in a similarly gilded outfit, in a resemblant setting, at a ball captured in the 1990 documentary Paris Is Burning, acknowledging the origins of one of the musical genres Beyoncé employs on Renaissance. In another photo, Beyoncé lies seductively on a divan beneath a disco ball hanging from a skylight, ivies tumbling from above as though she has descended from a dance floor in Eden. She is draped in a black fur and is nearly nude but for silver heels, a chain snaking her waist and thigh, and star-shaped pasties that are currently purchasable on her website for $24. Her hair is blown out à la Diana Ross and Donna Summer, the "Queen of Disco" (whom she samples on the album), again suggesting that the club is akin to a sort of heaven.
Alongside the similarly crafted, retro shoot for the July 2022 cover of British Vogue, these photographs—now emblazoned on T-shirts throughout Beyoncé's merch shop, alongside ephemera like crystal-crusted opera gloves, tiny silver cowboy hats, and a rolling tray—bring to mind album covers from the genres the LP's 16 tracks borrow from, including disco, house, and techno, too: Donna Summer's Four Seasons of Love, in which the singer sits atop a glowing crescent moon; Sylvester's Do You Wanna Funk, which cast the disco icon as an Egyptian god in profile, akin to Beyoncé's "Alien Superstar" Nefertiti portrait. Even the "Break My Soul" single cover, with its opaque lighting and her giant round hat, could have been transported from 1992 along with the song's rhythm, nodding to hip-house and C+C Music Factory videos.

In another photograph, Beyoncé ascends reflective stairs in a disco-mirror encrusted room (complete with lucite banister), and wears an architectural black leotard whose neckline juts out into demon horns; it suggests the inherent tension of late-20th century clubs, which offered refuge for queer and trans people whose existences, orientations, and lifestyles were deemed by society at large as immoral. It acknowledges the glitter in the only space where marked bodies could exist unencumbered. "My intention was to create a safe place, a place without judgement," Beyoncé wrote in her liner notes. "A place to be free of perfectionism and overthinking. A place to scream, release, feel freedom." By creating images that replicate that space—an ethereal, blown-out spectacle for the club inside her mind—she invites the viewer inside her reverie, an escapist fantasy dripping with jewels and the now-timeless glamour of the libertine club era.

Top photo by Carlijn Jacobs.
Related Reading:
How Much of a Home Is 'Harry's House'?
Designer Sean Brown's Toronto Apartment Elevates the Y2K Aesthetic
Get the Dwell Newsletter
Be the first to see our latest home tours, design news, and more.