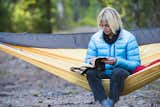 Is It Time to Start Journaling Again?
Strengthen your wrist and your mind, while giving your keyboard a break, with these 10 Dwell-approved journals and notebooks.
Writing in my diary used to be a daily activity; at the end of every day, I would try to spend 15 minutes going over the day, commemorating important events or simply scrawling "nothing unusual. Maybe tomorrow?" Over time the writing faded, notebooks disappearing into bookshelves I no longer perused. I hadn't though much about it until I was scrolled past a black, lined journal on a webstore. Nothing too flashy, but it got me thinking about the last time I had had a conversation with myself.
Sure, I haven't seen my coworkers, friends, or family in person for months, and I miss the casual chatter, the gossip, the laughter. But I'm talking about the talks you have with your past, present, and future self that can only be had within the confines of a notebook, personal blog, or the occasional Word doc. A peek into the pysche of yourself years ago that make you think, "huh! who would have thought things would turn out the way they did?" It can put things in perspective, or even just allow you to get to know yourself a little better. The world is a scary place to be right now; you should take care of what's happening on the inside just as much as you should about what's going on around you.
So I clicked "add to cart" and thus began my journey—and I think you should, too! Here are a few options I think would be primed for revealing some deep, dark secrets, writing grocery lists, or just getting some good ol' doodling energy out.