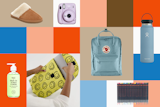 Gifts for Teens That'll Up Their Cool Cred—and Earn Yourself Some Clout, Too
Now you don't have to be on TikTok to figure out what to give the Gen Z crowd.
Shopping for teenagers can be tough, but we've got a few ideas up our sleeve for the hard-to-please. From room decor and cozy essentials to self-care accessories and video games, these presents will put a smile on their face—and when in doubt, gift cards are always a good idea.
Looking for something else? Check out the rest of our holiday gift guides here.
For the budding cinephile.
The most coveted item for VSCO girls.
Don't underestimate the enduring appeal of Sanrio.
They'll spend the next few days devouring this unputdownable graphic novel.
Way cheaper than a manicure, but just as cute.
Take watercolors on the go for whenever inspiration strikes.
Looking glossy, plump, and vaguely gelatinous is all the rage.
For storing precious cargo (and looking chic while doing it).
So they can decorate their dorm walls with good memories.
For their self-care moments.
Hansel From Basel makes the most covet-worthy socks.
A soothing way to remove their haute makeup looks.
So they can lounge in style.
Teeny and delicate, but with a bit of Wild West attitude.
Perfect for Libra suns, risings, or moons—or people who just identify as such.
A shoe that spans generations.
For the bubble tea lover.
For the outdoorsy type who's checking off the national parks.
The "now" color palette sets these apart.
So they can keep the room smelling funk-free.
If you've left things to the last minute, let them choose their own adventure.
Just the right amount of witchy.
Goes on walls, water bottles, notebooks, laptops—you name it.
A way to banish all-nighter induced under-eye circles.
Roller skating is back with a vengeance.
But don't forget the other roller trend.
To prevent those pesky breakouts.
For every occasion from day hikes to beach bonfires.
The perfect pick-me-up to add to the routine.
This generation's lava lamp.
Crisp white sneaks are a must for every wardrobe.
Instagram-worthy candles.
For those who want to stand out from the crowd.
Get the Shop Newsletter
Smart shopping for the design obsessed. Find what you love in our expertly curated selection of finely crafted home, office, travel, and lifestyle products.