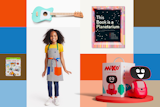 25 Awesome Gifts for Kids of All Ages
Nurture their creative streak with these picks designed to pique curiosity.
These playful presents for children are fun, educational, and—importantly for the adults in the room—don't make noise. Here are our gift ideas that'll engross kids from the moment of unwrapping.
For Younger Kids
Colorful chalk to turn the sidewalk into a Rothko.
A puzzle they'll want to put together over and over again.
A robo-pal for interactive learning.
Tiny architects will love these durable building blocks.
Consider this game a road trip must-have.
An adorable and practical activity table that adults and kids will love.
For keeping clothes clean when helping prep dinner, or pursuing their blossoming artistic passion.
Fort lovers, rejoice: This colorful, Bauhaus-themed set is endlessly customizable for hours of play.
A kid-friendly model kit for urban planners in the making.
The only veggies they're guaranteed to like.
This "pop-up extravaganza" brings reading to new realms.
Gift this set to aspiring space explorers.
A delightful deep dive into the wonders of our oceans.
For Older Kids
To encourage their inner cartoonist.
Movie night just got a million times more fun.
Help them bejewel everything in sight. (Or opt for this great selection of kid-sized jewelry for dress up and everyday.)
The gift that keeps on giving—perfect for crafty kiddos.
Caution: This toy may incite dance parties.
Calm their nerves and keep them cozy with weighted blankets that come in a variety of soothing pastels.
Encourage chatting at the dinner table with these fun conversation starters that touch on a variety of interesting topics.
For DIY decor or handcrafted toys.
Endless options for building their own town.
A solar system to help them drift off to dreamland each night.
Nurture their green thumb.
Then keep their gardening skills growing for years to come.
Get the Shop Newsletter
Smart shopping for the design obsessed. Find what you love in our expertly curated selection of finely crafted home, office, travel, and lifestyle products.