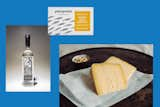 Some Unexpected Gifts for Foodies That Go Beyond Fancy Olive Oil
From tart lemon preserves that go with everything to swoon-worthy artisanal cheese, there's something here for every food lover.
This year, give the gift of flavor. From spice sampler sets to artisanal vinegars and more, meal prep just got a whole lot more fun for the foodie in your life.
Big Spoon's nut butters are a big hit over at Food52—their director of content suggests starting with the sampler set.
For mouth-watering snacks you won't find stateside.
Make their freezer this premium ice cream chain's next pop-up.

With Milk Bar's sampler pack, everyone gets a little something, which is the problem.

Did someone say "char-cute-rie?"

If you can't send them to Sicily, send them the next best thing.

Southeast Asian food that's almost as easy as striking a match.

Straight from the can or poured over ice, it's the perfectly convenient (and rather adorable) cocktail.
Overwhelmed by craft whiskey? Samplers offer the chance to explore without having to keep an eternally half-finished bottle around.
The best part of a meal is often—no, is always—the sauce.
GORP is what your parents ate. Upgrade your trail mix with these adaptogenic blends.
Ambrosial wheels and wedges fermented in the pastoral Hudson: as good as cheese (and a few other goods) gets.
Vinegar is getting its moment in the spotlight, and with flavors like these, we'll gladly step in and sing Acid League's praises.
All the kitchen's seasoning staples jarred in one—with a little kick for good measure.
Go beyond the chili crisp with an entire box of spicy from Fly by Jing.
Spice is nice, and so is this endlessly customizable spice pack.
Tinned fish you can feel good about eating—or even just leaving in the pantry.
It's soup season, baby! Stock their shelves with hearty options from this Black-owned business before temperatures drop.
Don't watch those perfect waffles wither under low-grade sap. Defend the fluff with something pure.

Delightfully tart and perfect in pastas, salad dressings, or dolloped straight onto a plate.
Looks good on your countertop. Tastes good when you're dipping bread into it.
Move over, French's: There's a new sheriff in town.
This award-winning Baltimore-based company has plenty of creative gins, whiskeys, and amaros on deck, but also allows you to gift a tour and blend-your-own whiskey experience to an obsessive who has tasted it all.
Fill up on the Latest in Kitchen Design
Discover inspired kitchens and get design advice for the heart of your home.