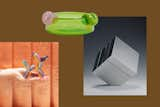 Some Chic Gifts For the Adult Weed Aficionado That Don't Evoke a Headshop
Nothing against headshops, of course, but....
We are past the point where enjoying a small nibble of marijuana, be it eating an edible calibrated for a gentle ride or passing the Dutchy on the left hand side, is no longer as taboo as it once was. Weed is legal in 21 states, and if you happen to live in a state where it has been for a while, stopping at a dispensary on the way home from Whole Foods is as mundane a task as, say, going to the wine store to fetch a nice Malbec to go with the rump roast.
But even though weed is no longer strictly the purview of head shops that smell like skunk and armpits, many of the attendant accessories still have that vibe. What's a responsible adult who loves marijuana and good design to do?
If there's a special someone in your life who simply loves weed but hates bongs that look like PVC pipe, consider some fashionable and chic alternatives, perfect for the discerning weed adult who just wants to get stoned and watch their stories in peace.
Nothing says "I'm grown and this weed is good, okay!" like a bong that doubles as art.
Your sister-in-law can use this bong as a bud vase (ha ha, get it) when it's not being used for its intended purpose.
An ashtray with utilitarian curves.
Seth Rogen, America's favorite pothead that isn't Willie Nelson, is the genius behind Houseplant, and this ashtray and tray set looks like a treasure you'd find at a store near Big Sur that sells middling coastal art. In short, it's perfection.
A conversation piece, to say the least.
No, this is not Jeff Koons, yes, it looks like it, and frankly, it's better....
Yeah, it's an ashtray, but it's also art!
They don't have to throw away their Miami Beach souvenir ashtray that they got at the airport, but they can supplement it with this elegant solution.
Nag champa who?
Incense sort of enhances the smell of weed as it lingers in the air, but this spray does an incredible job of actually eliminating it. (Trust us.)
Well, this won't pass as a vase, but....
Yeah, it looks like a bong, but it's a fetching shade of Yves Klein blue and doesn't have an alien on it, so it's a safe bet!
A grinder that you can leave out on the coffee table, if you want.
Perfect for the discerning pothead who appreciates Richard Serra and an expertly-ground sativa.
It's another ashtray!! But multi-purpose.
Plop an incense cone in this beautiful object, or use it for spare change and the joint you intend on smoking after the kids have gone to sleep.
Pretty enough not to use for its intended purpose.
Listen, most ashtrays are just fancy catchalls for chapstick, and a travel-size Advil packet from the corner store, and this is no different—it's just much, much nicer.
No one will know there's weed in this.
The perfect vessel for their dank bud, but inconspicuous enough to sit in amongst family photos and keepsakes on the shelves in the living room.
Some people might know there's weed in this, though.
No need to be shy!
Like a fidget spinner for grown-ups.
This little trinket is like if a Weeble Wobble went to art school.
Something cozy for TV time.
Weighted blankets are great for anxiety and even better for relaxing on the sofa in a pleasant haze, watching old seasons of America's Next Top Model.
A perfect addition to the table in their foyer that holds mail, the dog's leash, and at least $10 in loose change.
Use it as a tray for appetizers in a pinch.
They can throw away their Bics.
If Margot Tennenbaum were Gen Z, she'd use this lighter, which is a respectable alternative to a battered gas station Bic with the safety removed.
Don't try to hide what they're doing—enhance it, instead!!
This candle smells nothing like weed, which is, frankly, a bit of a relief.
A picture book for grown-ups.
Miyazaki movies are works of art; if they lack the patience for watching an actual movie, this book is the next best thing.
Looking for something else? Check out the rest of our holiday gift guides here.
We love the products we feature and hope you do, too. If you buy something through a link on the site, we may earn an affiliate commission.
Get the Shop Newsletter
Smart shopping for the design obsessed. Find what you love in our expertly curated selection of finely crafted home, office, travel, and lifestyle products.