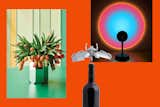 The Best Design Gifts for TikTok Obsessives, from Cameras to Cocktails
Surprise the budding content creator in your life.
Contrary to popular belief, TikTok is not just obnoxious videos chronicling the day in the life of 24 year olds making six figures and and viral pieces of furniture and decor (I am looking at you, mushroom lamp and Ultrafragola mirror). I love perusing the app's unique take on aesthetics, translated into various "cores"—think cottagecore, Y2k, whimsigoth, and dark academia—all of which immediately conjure a specific mood, time, or place. If you or someone you know wants to make their work and living space less dreary, borrowing some small elements here and there can really enliven any space in need of a refresh.
Y2K
Metallics, sunset hues, blob-like shapes, chrome finishes, and iridescent patterns define the Y2K aesthetic, which projected an optimistic idea of what the future had in store.
A new point and shoot camera
Film cameras are nostalgic and therefore de rigueur in a Y2K aesthetic. The Canon Ivy Cliq combines digital and analog in one model.
A sunset lamp
A big part of the Y2K aesthetic hinges on iridescent color schemes and gradients. A sunset lamp will project those rich sunset hues on any wall of your choice.
A mirrored accent, like this vase
The overall vibe is moody with an emphasis on Classical Studies, academics, and the arts: an idealized version of elite on-campus life.
A writing box
Take the dark-academia aesthetic anywhere you go with a writing box made of solid wood and leather.
A perfectly moody candle
This candle evokes the feel of paper and leather-bound library books. Plum and cinnamon give way to a leather accord, with base notes of birch woods, patchouli, and vanilla.
A book about the gods, for vibes reminiscent of The Secret History
Given Dark Academia's obsession with Classical Studies, knowledge of Greek mythology is of paramount importance. Apollodorus (2nd Century BCE) provided the quintessential compendium of Greek mythology and heroic legends, which is accessible to readers of all levels. On another note, aren't Loeb's covers the perfect shade of green?
Cottagecore
Inspired by the countryside and an idealized version of home-making, cottagecore is the 21st-century equivalent of the idealized pastoral life of the past.
An herb kit, for all the would-be farmers
One of the core tenets of cottagecore is the importance of home cooked meals, but especially baked goods. Herbs pair very well with scones and cakes. A kit to grow your own herbs will take the artisanal feel up another notch.
A beautiful tray for scones
Part of the appeal of cottagecore is its ties to the pastoral aesthetics of the past: you can't go wrong with John Derian's collection of trays featuring 18th-century botanical prints.

Whimsigoth
Less intense than traditional goth aesthtetics, the whimsigoth is still dark and mysterious, but make it rustic. Think items befitting a curio cabinet, intricate details, and scalloped edging.
A corkscrew for their Pinot Noir
This beetle-shaped corkscrew combines taxidermy (a quintessentially Victorian pastime) and mythology (the beetle symbolizes the triumph of good over Evil).

Some prints from a classic
Whimsigoths would not exist without Stevie Nicks, who owes a lot of her iconography to the Pre-Raphaelite artists, who combined naturalism with medieval imagery. William Morris is the most eminent textile designer of the era. (If you don't want to commit to his fabrics or tapestries, start with a serving tray.)

Negroni Sbagliato and its discontents


The masses have spoken: Aperol Spritz is now cheugy, and thanks to Emma D'Arcy, a Negroni Sbagliato appears to be the classy, grown-up alternative to the famed Italian aperitivo. Though this may be the first time you've heard of it, this drink is nothing new: Italians have known about it for the past 50 years, when, allegedly, the barman on duty just flubbed the original recipe.
Some nice crystal
Negroni is best consumed in tumblers like this, which are also great for Old Fashioneds. Waterford glasses are timeless (and about to be trendy again, allegedly.)

A Negroni-adjacent tipple that's non-alcocholic
You might not drink alcohol, but that doesn't mean you can't enjoy the bracing and balsamic flavor of a Negroni, thanks to Brooklyn-based distillery St. Agrestis' non-alcoholic version. Extra carbonation provides a welcoming kick.
Bubbles!
Prosecco has always played second fiddle to champagne, but its dry and fruity taste combined with a much more budget-friendly price point make it an enjoyable staple in a household. (If you're into certified origins, look for a bottle with the DOCG label.)
Looking for something else? Head right this way for the rest of our fabulous gift guides.
We love the products we feature and hope you do, too. If you buy something through a link on the site, we may earn an affiliate commission.
Get the Shop Newsletter
Smart shopping for the design obsessed. Find what you love in our expertly curated selection of finely crafted home, office, travel, and lifestyle products.