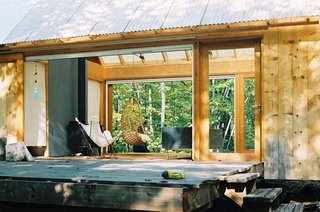 Leo Miele's Georgian Bay Cottage was one of five first-class cabins we featured in our November 2009 Concepts feature—which showcased works with a modern twist to the familiar log model, Swiss chalets, and Swedish friggebods. Here we present an online-exclusive interview with Mieles for a closer look at the lodge he designed.
The Georgian Bay Cottage treads lightly on the land—as the natives whose reservation this cabin is built on once did. Because the lots are leased, architect Leo Mieles explains, "the approach is: 'Let's not clear the hell out of the land but instead quietly embed our cottage and enjoy the landscape.'" This attitude prompts residents to distill their desires to the basic elements needed to escape from the city and relax in nature. Here, the solution is a "long-shed" construction featuring a large sliding door and pull-down bug screen, a translucent corrugated-fiberglass roof, and exposed studs and ties.
Join Dwell+ to Continue
Subscribe to Dwell+ to get everything you already love about Dwell, plus exclusive home tours, video features, how-to guides, access to the Dwell archive, and more.