An American Ex-Pat Renovates a Tiny London Apartment on Her Own Terms
Playfully flouting convention, an American-born architect creates a deceptively spacious home for herself in a tiny London apartment.
Johanna Molineus doesn't initially come across as the poster girl for rule-breaking. But the Washington, D.C.–born architect's 678-square-foot central London apartment is a testament to how bending, breaking, and even burning the rule book is sometimes the best way to create a remarkable home.
Newsletter
Join the Daily Dose Mailing List
Get carefully curated content filled with inspiring homes from around the world, innovative new products, and the best in modern design
The first rule that Molineus tossed aside was the bedrock assumption in the oversubscribed London property market that two bedrooms are always better than one. As her real estate–minded friends scratched their heads and tutted in that oh-so-British manner, Molineus set about recasting what she saw as an impossibly small two-bedroom apartment into a one-bedroom living space that, in spite of its tiny footprint, is made for entertaining.
Not many London houses boast enough space for a dining table for eight, to say nothing of a top-floor apartment that overlooks one of the English capital's oldest and finest garden squares and some of its most expensive real estate. But space to cook, dine, and even dance was a must for Molineus, who heads up Johanna Molineus Architects as well as Walking Architecture, which organizes custom tours of major European cities.
"The most important thing for me was to be able to entertain and have guests," she says. "My family moved around often, due to my father's position [in the World Bank]. We entertained three or four times a week. We consistently had dinner parties or cocktail parties, so you kind of get used to that."
Surprisingly, Molineus also has space for guests to stay over. They do, however, have to be willing to camp out in the alcove above the marble-countered kitchen at the heart of this cozy, minimalist home. Storage, as one would expect with such a small dwelling, is central to Molineus's concept, and the alcove—a kind of over-kitchen storage rack for humans—is part of the design, rather than leftover space. The apartment's high ceilings allowed Molineus to make creative use of underutilized spaces, although the most fascinatingly obsessive clutter solution is the apartment's custom cupboards. One of these, a repository for shoes, forms a balustrade at the top of the entrance stairs.
"It's actually measured to my foot size," Molineus says of the cupboard. "I take a size 41 [U.S. size 9.5] shoe, as I am quite tall. The height and the feet come from my German side. Just don't ask how many pairs of shoes I have."
After tearing up the real estate playbook, Molineus set about destroying some of the rules that she drums into clients, most notably the one about
not changing the design once construction workers wielding drills, hammers, and hard hats enter the picture.
"I made most decisions onsite," Molineus says. "I drew on the wall and had builders follow that. But it was amazing. I knew exactly which rules I could break and I knew when I was breaking them. I knew how far I could push with all the statutory approvals I needed. I knew when the tears would come and when the joy would."
Despite this somewhat haphazard approach, she brought the project in exactly on budget. She purchased the materials herself, shipped in her own builders from Poland (they lived in the apartment as they worked, communicating with Molineus in German), and wound up spending just $100,000 to convert this historic-yet-cramped garret into a modern home within striking distance of her office and most of her clients. The apartment originally set her back $520,000, but that represents something of a bargain in a piece of London so close to Kensington Gardens and the ever-fashionable Notting Hill.
Molineus's design is definitely minimal in spirit and even industrial in places, as evidenced by the Dieter Rams shelving in the living room and kitchen. But the splashes of color from the fabrics, outfits, and headgear that adorn the walls and seating show off a space that is as loved as it is lived in.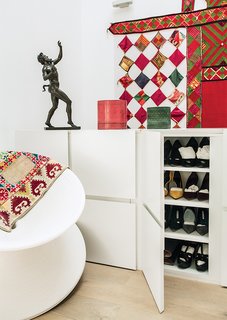 "We moved countries quite frequently when I was growing up," Molineus says. "We lived in Uzbekistan in Central Asia, but even before that I had started to collect textiles. I bought a lot in Istanbul. We lived in areas that were on the Silk Route, where it came from China and went down toward Turkey and up toward Europe. My mother used to work in the State Department but always wanted to become an architect, and we did a couple of houses together. I think this style developed from both of our tastes."
As well as giving Molineus a unique taste in home design and artwork, this constant moving gave her a lesson in living light. It has also left her with little emotion about place, even one that she has spent so much time designing and working on. Most of us would expend this much energy only on a forever home, but Molineus is happy to let someone else enjoy it eventually.
"I have no personal ties to this property because I have moved so often that I will buy something else or create something else," she says. "The only things I have ties to are some of the objects in here. That's it."