A Prairie Escape Embraces the Landscape with a Green Roof
Crowned with a glass observatory, this scenic Wisconsin home commands panoramic views of the surrounding grasslands.
Inspiration often comes from observation. In this case, it came from a lookout tower in Blue Mound State Park, the highest point in southern Wisconsin.
Newsletter
Join the Daily Dose Mailing List
Get carefully curated content filled with inspiring homes from around the world, innovative new products, and the best in modern design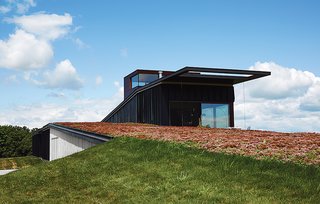 The tower provides sweeping views of softly rolling hills and tight ravines, windswept crops and grasses, and colors that change with the movement of light and shadow. Those vistas inspired Chele Isaac and John Neis to build a house in nearby Blue Mounds that would respect the topography of the state's "driftless area," a region left largely untouched by glaciers.
The project presented a chance to blend architecture and landscape, to create a living space that was dynamic to view, no matter the vantage point—including from above, says architect Brian Johnsen. "This is a house you don't just drive up and see," he says. From the observation tower, "there's almost a fifth dimension to it."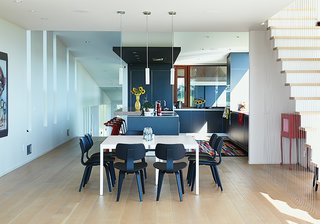 The result is a house that appears to have sprouted from the rich soil. The roof plane peels up from the ground and extends over the lower portion of the house, serving up a carpet of sedums that changes color with each Midwestern season.
The house gradually rises into five interconnected, open levels, with a small observatory at the top offering a 360-degree view of the 40 acres on which it sits. "Look up there," Neis says, pointing to a pair of bald eagles soaring just above a tree line. Wildlife sightings are common here, especially when Isaac and Neis take their border collies, Pippa and Moon Pie, out for walks. "If I have a crazy, hectic day, I can get out here and everything slows down," says Neis, a managing director of a venture capital company.
Neis and Isaac, an artist, spend most of their time in a century-old church in downtown Madison, about 45 minutes to the east. Their primary residence is an eclectic mix of furnishings and art, and includes a studio where Isaac creates multimedia installations.
"Out here, I refer to it as living in a sculpture," Isaac says of Topo House, a name Johnsen and his partner, Sebastian Schmaling, gave the country getaway because of the way it fits into the surrounding topography. "The land is beautiful, the structure is perfectly positioned. The house feels kind of alive. It picks up the subtlety of the land."
The exterior features 190 black anodized aluminum fins—each uniquely shaped—that appear to change color based on light and shadow, playing against the cast-in-place concrete walls. The exterior, like much of the house, is both artful and functional. The fins serve as a sort of rain screen, protecting the building while letting it interact with the wind and sun. The house is outfitted with a closed-loop geothermal system. Its narrow footprint captures cool cross breezes in the summer, limiting the need for air conditioning.
The Topo House was designed with few restrictions. Isaac and Neis wanted it to be a comfortable escape, paying respect to Wisconsin's architectural heritage, and to the landscape that Neis fell in love with growing up in Milwaukee and Madison. "There's a lot of Frank Lloyd Wright architecture around here," Isaac says. "We didn't really want that look but we wanted those principles. We didn't want something to pop off the ridge, but we also didn't want a berm home."
After talking with several architects, they were confident that Johnsen Schmaling, a Milwaukee firm, was the best fit for them. "I wanted someone who could talk art with me, but also someone who absolutely was going to take the reins," Isaac says.
The house and its location stand in stark contrast to the urban setting of the old church, a few blocks from the state capitol and near the University of Wisconsin-Madison campus. The couple wanted an open floor plan, and walls of windows and glass doors to easily let the outside in. At the same time, they wanted the 3,500-square-foot house to feel cozy.
Isaac and Neis also wanted rooms that could function in multiple ways. Only one is set up as a bedroom, but two others have sleeper sofas to accommodate guests. Isaac has set up a second studio, and a lower-level room doubles as an office for Neis.
"Interconnectedness—it was very, very important to them," Johnsen says of Isaac and Neis. "They wanted to suck in the outside in so many ways, access it in so many ways, but also to provide shelter from it in so many ways." The house's multiple levels offer several opportunities for privacy, but the design never turns its back on the vast beauty outside, including views of Blue Mound State Park.
Isaac and Neis took their time furnishing the house, which they began calling a second home in February 2013. "Our other place is very quirky. We have all sorts of things collected over time," Neis says. At the Topo House, the couple are enjoying the spare beauty of the dwelling in their own time as it becomes part of their routine, and of this largely undisturbed landscape.