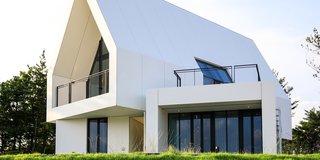 A Kitchen Counter Material Is the Secret Behind This Home's Crisp All-White Exterior
A boldly minimalist house rises in South Korea.
Inspired by Robert Ryman's minimalist paintings and the snowy peaks of nearby Mount Seorak, Woojin Lim of Paris-based studio AEV Architectures set out to design a house in Sokcho, South Korea, that would be "audaciously" and "unalterably" white. 

We Can't Do This Without You
Subscribe to Dwell+ to get everything you already love about Dwell, plus exclusive home tours, video features, how-to guides, access to the Dwell archive, and more.
Exclusive Home Tours
Unlock premium stories only available to subscribers.
Visit the best modern homes in the world with video tours, original photography, and more.
The Dwell Archive
Dig into years of Dwell magazine.
Browse by date or issue on any device, and check out our curated rotation of favorite stories.
Sourcebook
The definitive list of products and professionals.
Explore our essential resource for finding everyone—from designers to brands—featured in Dwell.