A Home, Studio, and Gallery Support a Growing Art Scene in Georgia
A forward-thinking architect builds a multifunctional structure with a burgeoning community in mind.
Long before he became an architect, William Carpenter was obsessed with the relationship between buildings and the larger environments they occupied. For Carpenter, a building is but an object without the context that surrounds it. "It's really a neighborhood's history and landscape that give buildings their significance," he says.
Newsletter
Join the Daily Dose Mailing List
Get carefully curated content filled with inspiring homes from around the world, innovative new products, and the best in modern design
Nowhere is this more evident than Lightroom 2.0, a three-story, 52-foot-tall, mixed-use building that Carpenter designed in Decatur, Georgia, an artsy enclave just east of Atlanta. The ground level of the 3,500-square-foot space features an art gallery, while the second and third floors house Carpenter's design studio and living quarters, respectively. Carpenter began conceiving Lightroom 2.0 almost six years ago after seeing Decatur's rapid growth and gentrification. "I wanted to create a place that would not only inspire creativity," he says, "but also bring together the community around it."
Situated between downtown's tourist-heavy Decatur Square and the quiet, more residential Oakhurst community southwest of town, Lightroom 2.0's location makes it a prime place for neighbors to gather, just as Carpenter intended. The architect took advantage of Decatur's updated zoning laws, which favor more pedestrian-friendly design standards, such as storefront spaces that come right up to the street. The gallery has public openings and is designed to look like an artist's loft, with concrete floors, large windows, and exposed engineered-wood joists. It routinely features the work of local artists, including Bojana Ginn, who projected videos about the use of light in architecture on the building's interior and exterior walls as part of a November 2015 exhibition.
One floor above the gallery is the studio for Carpenter's multidisciplinary design practice, Lightroom, which gave the building its name. At first glance, the room looks like a quintessential architect's office: wood models, dozens of hardcover design books stacked on tables, and framed artwork. But small details offer a glimpse into Carpenter's appreciation for place and history. A framed poster promoting an exhibition by the late Norman Jaffe hangs on the wall—the architect was a close friend and mentor to Carpenter, who grew up on Long Island, New York, admiring Jaffe's modern Hamptons homes.
Those personal touches also pop up in Carpenter's residence, which occupies the third floor of Lightroom 2.0. An original black-and-white print of Johnny Cash by Alan Messer, a photographer and friend of Carpenter's, hangs on the wall and adds detail to an otherwise sparse living area with minimal furniture. "I wanted this room to feel more sheltered, more like a house," he says. "I think the artwork really helps with that—it tells a story. It adds another layer of complexity."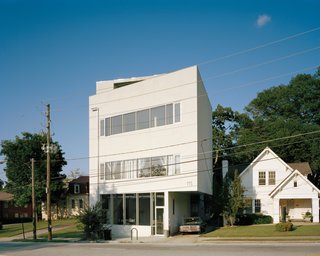 Similarly, floors made from utility oak pay homage of a different kind—specifically, to the shipping containers that used to pass through town. The decision to use wood at all is a testament to the design journey Carpenter experienced while creating Lightroom 2.0. He originally envisioned the building as a steel structure but ultimately settled on engineered wood after feeling the fallout of the recent financial collapse—the first bank Carpenter worked with went under during the recession, forcing the architect to reevaluate the budget.
Despite all the ambition Lightroom 2.0 displays, the project is also a study in restraint. New zoning laws allowed Carpenter to build up to eight stories, but he capped Lightroom 2.0 at three, plus a roof deck, to preserve the aesthetic of the street. He also left an original bungalow on the lot intact (it now operates as a therapist's office). "There's a beautiful flow to the existing houses from the 1920s on this street—they have their own cadence," he says. "It was important for me to maintain that because it shouldn't be us imposing modernism into this place. Instead, we're letting it grow from here."
William Carpenter worked with Jennifer Martin and Maria Sykes on this project.