A Brooklyn Couple Rehabilitate a 19th-Century Duplex
A couple gets their hands dirty in Brooklyn by rehabilitating a 19th-century tenement to reveal decades of layers and scores of possibilities.
There was no long-term plan—no master vision— in play when Alex Gil and Claudia DeSimio rented a 500-square-foot railroad apartment on the third floor of an old tenement building in Williamsburg, Brooklyn, in 2004. Gil, an architect, and DeSimio, who works in finance, were motivated by pure pragmatism: They needed to flee an apartment in a bland midtown Manhattan high-rise that simply cost too much.
Newsletter
Join the Daily Dose Mailing List
Get carefully curated content filled with inspiring homes from around the world, innovative new products, and the best in modern design
But it wasn't long before the couple started getting ideas. What if they bought the apartment, they wondered? They daydreamed about installing a Murphy bed as well as a couch and a dining table, all of which would fold into the walls to create an experience that, in Gil's imagination, would be like "living on a ship." One of the two landlords wasn't willing to sell the apartment, but, as it happened, the other offered Gil and DeSimio his share of the building.
"We'd been thinking about buying something else, and we went to some open houses in the neighborhood," DeSimio says. With the sale offer, "the question became, Do we stay here and create our own space or do we buy? The flexibility and freedom drove us to pick the more challenging option, the more risky option."
The couple took over the neighboring apartment, and Gil set about designing a whimsical two-level duplex. The wall separating the two railroad apartments would be torn down, creating a 1,250-square-foot space, with a bathroom and a combined bedroom and dressing room set off from an open area for cooking, eating, and entertaining. The public space would be dominated by three striking monolithic forms: a 12-foot-long red-cedar dining table that Gil designed to resemble a block when its four chairs and two benches are tucked in; a triangular "wedge core" that houses the common stairwell; and the steps that lead to a 750-square-foot rooftop addition with a second bathroom, a living room, and a 300-square-foot deck.
Gil and DeSimio encountered their first real roadblock when New York City's Department of Buildings ordered them to install an elevator, widen the stair-well, and make other modifications to bring the building in line with the city's 2012 building code. DeSimio responded by combing the municipal archives for tax records, maps, and photographs—an exhaustive process that paid off when she established that the building had been constructed no later than 1887, under the city's oldest tenement law, and therefore could legally do without an elevator and other modern adjustments.
Their sense of the building's history was further informed by the demolition process. They stripped one layer of drywall to find another covered in graffiti, a remnant from a period of dereliction and abandonment in the 1970s and 1980s. Removing that layer revealed the original brick, a pair of fireplaces, and echoes of the floor plan from a 1910 blueprint DeSimio had discovered. "You could see the layout, and how small the original living spaces were," she says. Buttons, a needle, and a delicate pair of filigree scissors were unearthed near a front window, suggesting that a long-ago occupant kept a sewing table there. A penny was found that, when rubbed clean, revealed a date of 1865.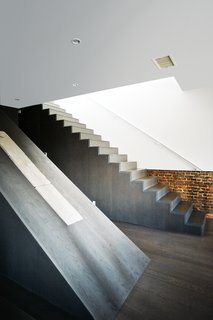 Adding a fourth level to a 125-year-old tenement building posed significant structural challenges, the first of which emerged when the demolition of the third-floor apartments revealed crumbling masonry and bricks that could be pulled loose by hand. The top six feet of the building's walls had to be completely rebuilt. The original wooden joists were replaced with steel ones, and a pair of steel columns were dropped from the roof through each floor to the cellar to help the building bear the weight of the addition. Outside, an ornate cornice was painstakingly restored. Construction took ten months and was largely completed by March 2011, though finishing small touches and punch-list items took through December. Now that they are settled in, DeSimio compares the experience of living among the monolithic forms on the apartment's main level to walking through a Richard Serra sculpture. Gil likens it to standing next to the pyramids in Mexico or Egypt. "It's just impressive to be next to something large and blocky and abstract," he says. "You can't describe it, but you feel something."
Visitors enter the apartment between two of these forms: the wedge core and the staircase. "This weird thing happens when you walk between the two triangles," Gil says. "The spaces next to you are falling down, and [the effect] literally opens up into the room."
The virtual opposite happens at night, when it's time to walk past the ascending wedge core and down a short corridor to the bedroom, which, with its lower ceiling, black walls, and antique furniture, was conceived as a smaller, cozier space.
Upstairs, ample sunlight pours through a plate- glass window and a glass door, playing off the white walls, couch, and cabinetry. Inspired by a visit to the Alhambra, in Granada, Spain, DeSimio busied herself during the construction process by handcrafting more than 6,000 seashell-shaped tiles for the upstairs bathroom that she bisque fired and airbrushed to a light- and dark-blue sheen in a 24-hour ceramic studio in the neighborhood. The rooftop addition is strikingly brighter than the main level, where the narrow tenement windows and the gray stain on the white-oak floorboards contribute to a more sedate feel.
"This kind of building has its punched windows along the front and these opaque masonry walls on the side, and windows in the back," Gil says. "The design plays into that—it gets darker as you go back. But upstairs, it's one big window, like a periscope."
In part because they weren't shy about getting their hands dirty—running their own Internet cable, for example, and repainting some of the interior walls themselves—Gil and DeSimio were able to complete their new duplex for about $120 per square foot. The addition—home to the couch, bookshelves, and television—has a more lived-in feel than the lower level, which is more sparse and, Gil and DeSimio acknowledge, perhaps not to everyone's taste. But it suits them.
"People have an immediate reaction to the space," DeSimio says. "It's minimal in a lot of ways, and that's how we like it. But there's also a function and a simplicity that I think is important to experience. It's a matter of style; even though the space is very simple, it feels rich to us."