7 Modern Nightstand Options
Once a locker for a midnight loo, the bedside table has taken on a far sweeter function—and a score of forms for holding big dreams, and small specs, till the morning light.
Before the advent of plumbing, a nightstand was more than a repository for bedside treasure. It held something of a quite different nature: a circular chamber pot, nestled behind the doors of what was then referred to as the commode.
Newsletter
Join the Daily Dose Mailing List
Get carefully curated content filled with inspiring homes from around the world, innovative new products, and the best in modern design
We've since forgone the ceramic bowl—–and often the cabinet doors and drawers as well—–and today's bedside tables need only live up to the literal interpretation of their prosaic title. "It could be a desk on one side and a round table on the other," says interior designer Philip Gorrivan, "just as long as some sort of surfaces flank the bed."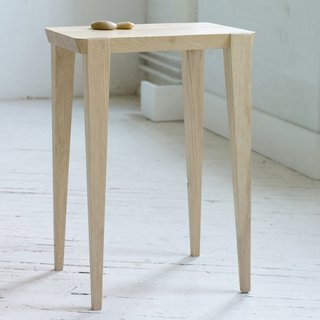 For Washington Post book critic Michael Dirda, who does half of his reading in bed, the essentials are shelves, drawers, and ample tabletop space. He stocks his nightstand with notebooks, pens, bookmarks, a letter opener, a task lamp, glasses, Altoids, and, of utmost importance, a flask filled with cognac. Despite his analog approach, Dirda easily imagines nightstands equipped with audio inputs that would allow him to plug in earphones and watch a show without waking his wife—–that is, if he watched TV.
Dirda's futuristic fantasy is not far off: With lamps, laptops, phones, and clocks all requiring regular juicing, bedside tables now need to accommodate clunky cables and cords. "You don't want your table to look like a mess," says designer Francis Cayouette, whose Mandal nightstand includes a compartment in the back for power cables and a drawer in the front to store less techy toys. Thankfully, a hole for a bowl is no longer needed.
 
To see more bedside tables, please visit the slideshow.