5 Ways to Make Your Home Smarter
Interior designer Wendy Raizin shares her top tips for raising your home's intelligence quotient.
When it comes to smart tech systems and automation, today's home can provide more intel and convenience than ever before. Monitor it from 1,000 miles away? Check. Raise and lower blinds without getting out of bed? Naturally. Create wireless surround sound controlled from a phone? Your ears won't know what hit 'em. 
Newsletter
Join the Daily Dose Mailing List
Get carefully curated content filled with inspiring homes from around the world, innovative new products, and the best in modern design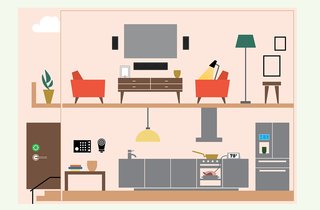 "Tech products come in a huge range of options, from very elaborate systems to simple additions one could purchase at Lowe's, Home Depot, or the Apple Store for under $500," says Wendy Raizin, a Florida-based interior designer whose clients request the latest gear for their homes. 
"First, determine a technology budget, then pick the most important features to have," she advises. "Many want a fully integrated, ultra-high-tech home, but the cost for that can be in the six-figures." Be aware that some items also require an audiovisual expert or engineer to install. 
If you'd rather spend your hard-earned greenbacks on gadgets rather than tech support, Raizin shares seven of her favorite products and systems that can be set up in mere minutes or over a weekend.