10 Ways to Bring a Little "Hygge" Into Your Home
Hygge (pronounced "hoo-gah") is a Danish cultural concept which has recently taken the world by storm.
Loosely translated as "coziness," hygge is a warm and comfortable feeling—like what you experience when you share a hearty meal with good friends or cozy up to the fireplace with a good book. Hygge has even been used to explain why the Danes are said to be the happiest people in the world. So, curl up on your midcentury sofa and check out these 10 ideas that can help bring a little more comfort, warmth, and togetherness to your home's atmosphere.
While any Hans Wegner chair could really fit the bill, the Flag Halyard Chair was said to be inspired by a day the designer spent relaxing in the sand at the beach—which sounds pretty cozy.

Newsletter
Join the Daily Dose Mailing List
Get carefully curated content filled with inspiring homes from around the world, innovative new products, and the best in modern design
A low-hanging Nelson Pendant Lamp adds to the cozy atmosphere of this bedroom in a live/work loft.

This classic porcelain teapot from Danish designers Ditte Reckweg and Jelena Schou Nordentoft offers streamlined, minimalist design with clean black and white graphics. It's perfect for entertaining guests après dinner.

A fireplace provides instant warmth, literally. Unfortunately, Preway fireplaces, like the ones seen in many Dwell homes, are no longer in production—but if you can't find a vintage one, you can order a freestanding Malm fireplace through DWR.
Throw a sheepskin over a chair, the end of your bed, or on the hallway floor for a touch of warmth and softness. Though many people find vintage sheepskins from flea markets or auctions, you can also grab a faux version from Ikea for just $15.
Just as contemporary today as it was when it was initially designed in the 1950s, the Krenit bowl is a classic piece from the Golden Era of Danish Design. Its creator, Herbert Krenchel, was a Danish material scientist who became a designer by chance.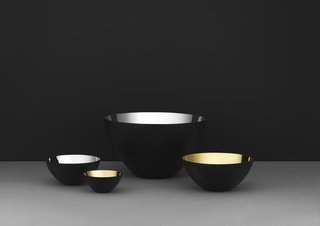 The Woven Rush Bench from Smilow Design was originally designed by Mel Smilow in 1956. The American hand-crafted line is classically midcentury and was officially reintroduced by Smilow's daughter Judy in 2013.

Povl Kjer's Tuft stools come in two sizes—a small child's stool or footstool, and a larger version that can be used at the kitchen table or as a barstool.