10 Prefab Shipping Container Companies in Europe
From start-to-finish, prefabricated shipping container homes are revolutionizing the homebuilding process for the better. Their modern design, affordability, and quick turnaround make for incredible homes that many people enjoy.
Browse through these 10 amazing European prefab shipping container companies that you can count on when building your home.
1. Tempohousing (Amsterdam, Netherlands)
"The company started in 2002 with the introduction of shipping container homes. Our mission is to build green, economical and simple. Not to beat the competition on pricing but with original and smarter and more economical solutions of a higher quality. If we can help creating a cleaner world while keeping the cost down and build faster, we are all better off." (Tempohousing).
Newsletter
Join the Prefab Homes Mailing List
Get carefully curated content filled with inspiring homes from around the world, innovative new products, and the best in modern design
"The company is widely experienced in design, work on-site and building permits, with a strong focus on modular industrialized architecture and construction, applying bioclimatic and sustainable concepts." (James & Mau).
"The new technologies and techniques allow the reduction of costs while bringing qualitative improvements. The production of prefabricated housing, more efficient, less expensive, inevitably represents the future of construction." (Patrick Partouche).
"The office works in various fields of architecture from research, design to consulting for various international clients. Office became widely known first for its projects in the field of container architecture and later for the research and design of educational architecture." (Jure Kotnik Architects).
5. MobilBox (Cheshire, England)
"MobilBox are a professional company supplying a range of shipping container ideas." (MobilBox).
6. sculp[IT] (Antwerp, Belgium)
"Each project is unique and requires a customized design, communication and implementation strategy with an integrated design process and approach by a team tailor, the necessary specialists are recruited internally or externally." (sculpIT).
"Container City™ is fast, innovative, and highly versatile system that provides stylish and affordable spaces for a range of uses." (Container City).
"LHVH Architekten BDA was founded in 2003 in Cologne. The three office partners Frank Lohner, Jens Voss and Frank Holschbach, formerly fellow students at the University College Siegen, are regarded as generalists in the high-quality field. They accompany construction projects in all performance phases."
"spillmann echsle architects was founded in 2002 by Annette Spillmann (*1969) and Harald Echsle (*1968)" (spilmann eschle architects).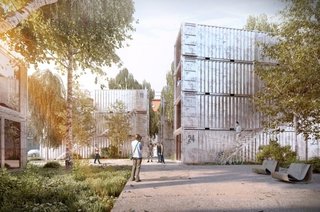 10. Studio ARTE (Portimão, Portugal)
"Our mission is to create environments that will astonish you and push your imagination forward, surpassing all expectations. Studio ARTE emphasizes the power of human emotions and can translate your feelings and senses into a new form of architecture and lifestyle." (Studio ARTE).