10 Playgrounds With Modern Twists
Playgrounds have followed the same architectural playbook since they premiered in the 19th century—a few swings, a slide or two, and maybe some monkey bars.
As research proves to show how important these communal spaces can be for childhood development, the need for mindful redesigns have become apparent. Over the past decade, architects have reconsidered these structures and have brought them into the modern world.
1. Playground - Boadilla del Monte, Spain
2. Génicart Playground - Bordeaux, France

3. Brutalist Playground - London, England
4. Pulse Park - Kildebjerg Ry, Denmark
5. Rooftop Playground - Nørrebro, Copenhagen
6. Bamboo Playhouse - Kuala Lumpur, Malaysia
7. Sam + Pam Playground - British Columbia, Canada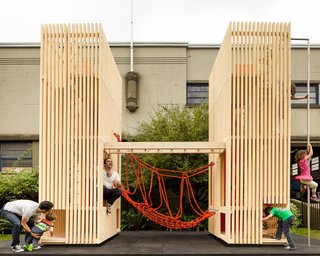 8. Hazza Bin Zayed Stadium Playground, Abu Dhabi
9. Blaxland Riverside Park - Sydney, Australia
10. Wikado Playground - Rotterdam, Netherlands
Get a Daily Dose of Design
Sign up for the Dwell Daily Newsletter and never miss our new features, photos, home tours, stories, and more.