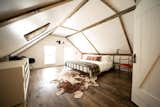 From Amy Brightman
Warner's Camp is a historic 1800's homestead, located in the Adirondack Mountains on the banks of the Ausable River. Close proximity to Whiteface Ski Resort and the charming town of Lake Placid, NY. Currently available for short term renting via Airbnb: warnerscamp.com
The house has three traditional bedrooms, plus a sunroom off the kitchen that doubles as a fourth bedroom, and a curtained off sleeping alcove near the living room that can be used as a private sleeping space.
The living room sits in the oldest part of the home, featuring original exposed beams from the 1800's and a wood burning stove. The kitchen and dining room, which were added to the home in the 70's, feature incredible river views via oversized windows. Watching the flowing river never gets old. We've updated the mid century kitchen with local black granite, marble accents, and brand new, retro style appliances (including a dishwasher and double ovens).
Both bathrooms in the home are chock-full of character. The downstairs bath includes an antique clawfoot tub and shower. The upstairs bath, recently installed, features a rustic galvanized bucket shower and classic tile finishes.
Enjoy the outdoors from our screened in porch and our gravel patio that overlook the Ausable River. The patio contains an oversized picnic table and a fire pit surrounded by Adirondack chairs. The fire pit is a great year round activity. We love crashing here with a beer in our snow gear after some early spring skiing.
Another great year round activity: our exterior barrel sauna. Fire up the stove and hop in for a steam after hiking, skiing, or swimming.
Our lot spans over 2 acres with 200 feet of water frontage. Walk down the paths towards the river and you'll find a hammock suspended over the water, multiple sitting boulders, and finally, our (nearly) private swimming hole. Great for swimming, tubing and fishing. The house comes equipped with four large inner tubes which you can use in our swimming hole, or take with you to another spot.