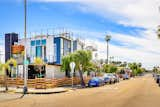 Credits
Builder
R&S Tavares Associates, Inc.
Photographer
Pacific Video Productions
From Pedro Tavares
R&S Tavares Associates, Inc., brings contemporary prefab living to Ocean Beach, a charming beach community close to San Diego's downtown. The project was an effort of Pedro Tavares who started researching the project while attending Woodbury University's Master of Real Estate Development for Architects program in San Diego, headed by Ted Smith, Jonathan Segal, Lloyd Russell, Brett Farrow and Mike Burnett, giants in the San Diego Architect as Developer model. The project was first explored as part of their thesis in that program and continued past graduation where Pedro and a colleague designed, permitted and completed the project as owner-builders.
R&S Tavares Associates, a design and consulting company started by Ralph and Silvana Tavares, also partners in the project, performed the engineering and authored the construction documents for the project. Ralph and Silvana are the country's foremost experts in Modular/Prefabricated building technologies, having worked for various manufacturers throughout the United States since 1987 and branching off on their own in 2000, they have been directly responsible for the design and engineering of thousands of modular projects worldwide from "tiny homes," 100,000+ square foot hospitals and award winning projects such as RADLAB's Quartyard project in San Diego which received a people's choice orchid and Studio E's High Tech High in Chula Vista which won an AIA COTE award. Ralph holds professional Engineering licenses in 42 states currently and Silvana is a New York licensed Architect.
Manufactured and shipped from Champion Home Builders in Corona, CA, the homes were built under extremely rigid constraints imposed by local zoning. They are about 840 square feet each, a block from Dog Beach in Ocean Beach, San Diego. They feature floor to ceiling heights of 13'-0", and are very unique in terms of modular structures in that they contain balloon-framed loft spaces within and overall total module heights of 15'-0" (4.5 meters), utilizing special trailers to keep their overall shipping height under the 17 foot special permit restriction in California. A large roof deck with panoramic views of the water is accessible in each house. Portuguese cobblestone from Porto, Portugal was imported to the Port of Los Angeles along with three Portuguese master masons to create the Copacabana Boardwalk pattern on the driveways by Roc2C.
On-site construction started April 25, 2016 and production of the modules started May 9th. The project was set in one day by Nick Rocco of Rocco Enterprises on May 26th, ahead of schedule to comply with the City of San Diego's Coastal Construction Moratorium which would have not allowed for a crane to be set in the road past Memorial Day.
More info on the project can be found at threeonabbott.com. Project updates are being posted to facebook.com/thr...