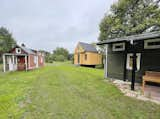 The Unfolding of a Railway House
From Brette Haus
Brette Haus has recently showcased its brand new prefabricated product in a tiny house community close to Hollenbek, Germany. The cabin was put up in just several hours on the territory of a historic railway station.

Its owner had been in search of cosy, sustainable and easy to install accommodation for his guests. The businessman owns a long line of a railroad which he managed to convert into a tourist attraction: amusement and theme park Erlebnisbahn Ratzeburg.

The park offers a lot of fun activities. Unusual vehicles bring you to a nice small village made up of old railway carriages with a modern look. There you can stay for a night, make a barbecue or even visit a sauna transformed from the locomotive of the 1930s.

However, the owner has thousand of creative ideas and there is another attractive spot on its railway road map — a tiny house village called Lilleby. Its whole concept is about minimising the human footprint on the natural surroundings and living in a community of like-minded people, following the idea of a sustainable life approach as a top priority.

Breathing new life into the old railway station, adding eco-friendly constructions and using custom-made solar roof panels, the tenant readjusts the railway: the recently installed Brette Haus prefab house was put directly on the train wheels.

The new acquisition is a Rustic 20 XL Brette Haus. It is a 30 square meter insulated cabin manufactured together with CLT-producing plant WIGO Group. It comes ready as "plug and play" as there are prefab electricity, plumbing and heating systems, a WC and a shower and a customised IKEA kitchen. The ground floor is planned as a living room with a kitchen and bathroom while the mezzanine is perfect for organising a relaxing area with a bedroom. This folding home is weather-resistant, warm, easy to maintain and cosy due to high-quality materials.

The house is made of renewable wood with almost zero wastage and carbon emissions. Its rustic eco-design is a perfect fit for the local landscape: the village is situated in the heart of the Lauenburg Lakes Nature Park close to the UNESCO biosphere reserve of Schaalsee.

A House Or A Suitcase?
All Brette Haus houses are elaborated with a unique folding system which allows them to transform in a really compact and quick way. Three modules are connected with hinges and are folded inside each other letting no air. This results in a cheaper delivery and reduces the house price by 10 – 15%.

A shipping trailer can actually carry up to four folded cabins. All you need to install them is a crane truck and two qualified specialists. The hinge system grants up to 100 foldings which means you can move your house whenever needed.

The company aims to create affordable portable eco-homes to give you freedom of movement while blending in with nature. Latvian startup Brette Haus is focused on the B2B sector seeking collaboration with retail and hospitality businesses.
Who're the people behind the project?
Besides the Brette Haus team, first of all, there is Sergey Ippolitov, the WIGO Group owner. He understands the difficulties of startups and provided great prices for manufacturing as well as high-end expertise.
Brave Brette Haus ambassador in Germany Mr Thorsten Janßen sticks with the company for already a year and a half. He helped to promote standardized products and reach B2B companies in German-speaking countries.
Edgars Niedra, the head of factoring company Factoreal SIA, helped Brette Haus in obtaining financing and half of the deal is paid with a 3-month full-service factoring.