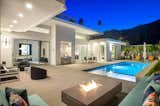 From Nicolai Strehl
A Los Angeles couple created their own dream home in Palm Springs for their family, friends and like-minded people who love the desert vibe, known as the Three Palm Haus.
Originally from Germany, the couple came to California in 1996, started a family and called the suburbs of Los Angeles their home for over 25 years. Over time Los Angeles became too loud, too busy and too hectic for Marly Tempel, a Realestate professional and her husband Nicolai Strehl, a Designer & Art-Director. The couple was seeking a home away from home with a slower pace but not too far from LA.
A place they could relax over a long weekend, spend the holidays with their kids and even retire someday. They always loved Palm Springs for its desert climate, the small town feel and its many mid-century architectural homes and buildings. Marly sold a home to a client in the Palm Springs area in 2018 and was familiar with the Palm Springs housing market and different city areas.
In the spring of 2019 the couple started actively searching for their own property.After looking at over a dozen homes all over Palm Springs, they saw an interesting listing popping up the MLS: a small cottage on a large lot in a great neighborhood which was just listed in the area they preferred. No time was
wasted, they called the Agent the same day, visited the Property the following weekend and made a full price offer without contingencies.It was clear to them, that the cottage had to go and that they had to build their own house, getting a change to create something new that would live up to their style and standard.
With a vision in his head and his wife's approval, Nicolai, who had done multiple remodel projects through his enterprise SPATIAL DESIGN went to work. The couple's vision was to build a one-story structure, inspired by midcentury modern design esthetic while emphasizing on indoor outdoor living and natural light, featuring large sliding windows, floor to ceiling windows and wide overhangs. Nicolai worked together with local Architect Mike Mendoza and his team to transfer his vision into a buildable plan. He hired a contractor and construction started in April of 2020. Nicolai moved his office into an Airstream, which the couple purchased and parked on the premise from where he oversaw construction and was able and interact with the various trades on site to make design decisions or implement aesthetic corrections during the construction period.
The new house which was finished in early 2021 includes a master bedroom, a guest suite, a guest bedroom, an office plus a media-room. European-style touches in the Kitchen and bathrooms include Miele Appliances, Liebherr refrigerators, Grohe faucets, Karcher Hardware and contemporary lighting throughout. The inside spaces flowing seamlessly to the outside. High ceilings ad drama to the home, up to 15 foot in the living room. Crisp, clean and bold lines throughout create an inviting balance of minimalism and warmth.
As for the landscaping, Marly and Nicolai wanted to echo the clean lines of the house and to create a sense of calmness while still been vibrant through a variety of textures created through stones and local plants. They decided on clean and simple backyard, with a ficus hedge for privacy and artificial turf areas between the acid-washed concrete decking around the pool and fireplace. Ocotillos were planted adding texture toward a dark painted wall. For the front yard, went for a silver/monochrome desert garden, adding Palm Trees, cacti and native succulents around a bed of stones and rocks.
The Three Palm Haus, a contemporary take on midcentury modernism build in the heart of Palm Springs.