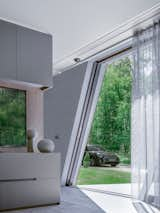 From Heliis Tiitma
No contracts. No obligations. The SPACE by IO House is a modern living solution requiring absolutely nothing from the "grid." All of the utilities you need are integrated and completely autonomous, including water, electricity, heating and wifi. A smart device is all that is required to monitor and manage your living experience. The perfect fusion of technology and design, The SPACE provides you with the flexibility to live independently and free.
Constructed from only the most premium materials, the quality of the build and the nature-friendly design create a luxurious and environmentally sensitive living space. The SPACE offers you the most advanced conveniences of modern life together with the smallest ecological footprint.
Truly ahead of its time, IO House's vision represents the future of sustainable living and harmonious comfort. The SPACE by IO House sets a new living standard for all forward-thinking people.
The modern world forces people to work hard and stress even harder. Your home should therefore be a haven of comfort and peace. The SPACE by IO House was developed by designers, engineers and leading construction specialists who envisioned a modern space perfectly aligned with nature. Creating this harmony inspired our every decision. Clean lines, contemporary styling and clarity of form were also guiding principals in achieving this goal. A sleek and timeless design, the architecture of The SPACE focuses on creating simplicity and tranquility while still evoking the heritage and traditions of the past. IO House's luxurious, high-quality living environment will nourish and inspire your spirit. A perfect balance between mother nature and modern architecture, The SPACE is not just a house – it's a way of life.
iohouse.se/the...