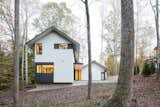 From JELD-WEN
The design of the Moura home by architects at In Situ Studio works to blend the lines of inside and out, providing the owners with an open-air layout complementary to the flourishing surrounding environment.
Despite strict neighborhood covenants defining square footage allowance and material allocation, the architects were able to design a home that compromised neither space nor style. Sleek black and white detailing give the home's interior a polished, contemporary look. The home is 3,214-square-feet, and large JELD-WEN Premium Vinyl windows give way to views of lush forestry, providing it with an even more grand, expansive feel.
The exterior design features asymmetric window placement. Black detailing against a white paneled exterior complements the home's transitional/contemporary feel. The streamlined styling of this home's interior gracefully maintains a focus on the home's surroundings, while still providing an elegant aesthetic. Floor-to-ceiling JELD-WEN patio doors and windows throughout the home soften the boundaries between the structure and its surroundings emphasizing the theme of open space and natural tranquility.