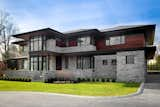 From Node Architecture, Engineering, Consulting P.C.
This Manhasset residence exemplifies that you can achieve sustainability and luxury simultaneously. The implementation of Passive House standards added a uniqueness to the property. Passive house structures adhere to design principles that prioritize energy efficiency and reducing the ecological footprint.
The additional geometric angles throughout the home discovered an infinite amount of thermal bridges that had to be resolved. High energy efficiency design via Energy Recovery Ventilation was utilized throughout the home to achieve optimal indoor air quality. Now more than ever we realize the importance of indoor air quality, and this home utilizes the ERV system to achieve that. High Passive Solar standards and triple insulated air tight windows, also contributed to the optimal Passive House standards within this home design.
Influenced by the "prairie" house style famously introduced by Frank Lloyd Wright, the rows of windows, open floor spaces, horizontal lines and flat roofs introduce a contemporary take on the prairie style on a large lot with pool.
The interior of the home consists of 6,500sf and includes 4 bedrooms and 4 full baths and one half baths.
Based in New York City, Node AEC P.C. has been making a positive impact on surrounding communities with sustainable design by implementing Passive House principles. This has been their focus since inception, and now with the current climate, sustainable efforts and clean living are more important than ever. Principle Architect, Jakov Saric, is one of the few Passive House Certified architects in the nation. His commitment to change the narrative for new development design leads their team making decisions.
For more homes like this visit www.nodeaec.com
Node Architecture, Engineering, Consulting P.C.
330 West 38th St, Rm 806
New York, NY 10018