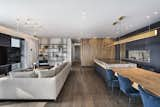 From Dana Kushmirski
Design Concept: Layers
The design concept is based on the creation of new ways to use natural materials, reproducing the effects of layering found in nature. We have used this property to allow the expression of natural materials in new ways and within new contexts by creating meeting points for different natural materials.
The layering concept seeks the balance between form and function and between the object and the space. Using explicit customization, in each element we designed, the layers were created through a different meeting of materials.
The result delights and draws the eye and in which the quality of the natural materials stands out.
Planning: The space is divided up to provide maximum openness inside and in terms of its connections with the outside. The integration of a number of linear geometric elements with presence in the space, designed with specific emphasis on precise, clean form, creating a synergetic, harmonious composition and their emphasis using light and shade.
As an alternative to building walls, elements were designed for installation throughout the apartment to create both separation and communication between the different parts of the space.
Materials: Only natural materials emphasizing the strengths of the natural materials used. Those natural materials are worked by specialist artisans and their richness forms a precise, composite whole. The three main materials we used in this apartment form a cascade of metals, woods and marbles combined as a range of materials, displayed as surfaces and as significant masses with different finishes. Together they create a work of art comprising layers and blocks, small details and broad statements; a spectrum of textures. Each natural material has its own language in perfect synergy with the distinct language of every other material.