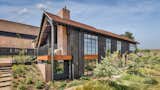 From Anne Tiainen-Harris
An award-winning replacement new home, the distinctive design blends industrial-style crittal glazing with corten steel accents.
Overlooking the Chilterns hills in the greenbelt, our clients' dream was to transform a dated bungalow into a contemporary, industrial-style family home. The Hide is a light-filled, 2 storey house with floor-to-ceiling glazing and an immersive connection to the countryside. The Hide is a Finalist House of the Year in the British Homes Awards 2022, received the Berkhamsted Citizens'Environment Award and won BUILD's Best Replacement Dwelling, South East Award.
The new house is designed to create an exciting experience as you walk through it. Having moved the property slightly away from the slope, one crosses a bridge to enter the double-height living space with views to the countryside beyond.
The design marries the Chiltern Hills Design guide with our clients' brief for a contemporary, spacious family home. Chiltern red brick and black timber cladding integrates the building with the local vernacular, whilst Crittal windows and Corten steel accents achieve the desired industrial aesthetic.
Designed by HollandGreen (www.hollandgreen.co.uk), an award-winning, multidisciplinary Studio of architects, interior designers and landscape designers. With a reputation for timeless quality, we've been creating homes and gardens of distinction for over a decade.