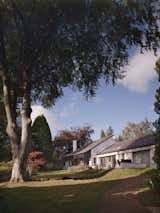 From Fiddes Architects
The Beeches, William Street was a full renovation and extension of a traditional bungalow in a rural village in Aberdeenshire, Scotland.
The client's brief was to modernise and extend the 1970's architect designed home which would increase the living accommodation and include a space to enjoy the generous garden. Given the location on a quiet rural street in the village it was important to modernise but keep the external appearance modest and simple whilst being true to the original form.
Fiddes Architects approach was to use the existing linear footprint of the bungalow. The renovation included re- insulation of the entire envelope, and installation of underfloor heating. Overall reducing heat loss and cold bridging whilst increasing air tightness.
The original form was maintained but with various material interventions to enhance the building fabric. The original slate roof was saved and the existing wet harled render was replaced with a combination of white silicone render broken up with sections of Siberian Larch cladding. Siberian larch cladding is not only sustainable, but also reflected the site context from the quiet tree lined street side and mature trees in the rear garden landscape. All windows and doors were replaced and new openings were formed to rationalise the external appearance in line with the new material choices.
Entering the house under a newly formed sheltered canopy you are welcomed into the spacious entrance hallway which flows through double doors to enter the dining and living space. The private living space is located in the west wing of the house and the kitchen and further living accommodation including a wine store at the east wing. Separating the two but maintaining a central focussed living space.
The bungalow sits on an elevated position as the garden slopes away. A generous decking area was incorporated in order to appreciate the mature private garden from the higher vantage point with southern views.