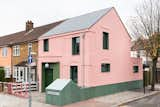 From Office S&M
This new build-to-rent house, with textured render and terrazzo details, contains generous vertical spaces on a constrained corner site.
Bookending a mid-century terrace in Plaistow this three bed, three bath house makes effective use of a tight corner plot. Salmen House was designed by the architects Office S&M to be built and let by professional landlord My Property & Home, who had purchased an end of terrace garden suitable for a two-storey infill house.
The house is generous to the street, rather than being overly polite to its mish-mash context of late Victorian, mid-century, and post big-bang housing. The millennial pink exterior breaks away from the traditional design and biscuit-colour of rented accommodation. The complimentary external colours, salmon pink and lush green, visually push apart to create a feeling of greater volume - the pink moving forwards and the green stepping back. The stippled render and textured terrazzo have a material richness to them, catching changing shadows on the long flank wall throughout the afternoon. Surrounding the windows, polished terrazzo reveals bounce additional light inside, as well as mirroring the window details found along the mid-century terrace.
Though rented, the house is designed as a unique home, so that tenants feel ownership of the property. The acute angle of the corner site is celebrated throughout the design, in both plan and section, to give spaces that accentuate their volume, while disguising their efficient footprint. Each space has natural light and views from two directions, and views from, into, and through these corners create multiple outlooks within each room. The horizontal circulation is one continuous view from the cranked front door through to the rear garden, while the staircase opens into a generous triple height space that pulls your gaze upwards.
This generosity has not come at a price. The house was built for £205,000 and to a lasting specification. While clearly opposing the New London Vernacular, the solid wall construction with a single skin of blockwork meant that the superstructure was erected rapidly, and the entire project took just over six months to complete. By working closely with the structural engineer to take structure away, rather than adding it in, space was maximised to create four-meter-tall bedrooms, exposed beam ceilings, and a triple height staircase.
From the front door, a ground floor bedroom and accessible shower room occupy the front of the house, with an open plan kitchen, living and dining room facing the rear garden. On the first floor are two more bedrooms, one with an en suite, and one next to the main family bathroom. This flexible layout, with an ample bathroom for each bedroom, can easily accommodate young professionals on a room by room basis, or a nuclear or inter-generational family.