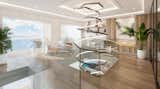 RU5 Global - The $8M Penthouse with 6 Continents as Its Backyard
From Luxury Design
Taking waterfront views to the next level and abroad, The RU5 Global premier penthouse presents its future residents with endless ocean views across the world. Designed as a two-story home atop the luxury residential cruise MV Narrative by Storylines, this penthouse at sea transports its residents around the world during a six-continent itinerary.
The main entrance ushers you into the full-sized guest or second bedroom area with its own closet storage space and easy access to a bathroom. Featuring an open floor plan with three layout customizable options, you can move across a spacious living room with unobstructed oceanfront views, a full wet bar, expansive dining table and lounges. Designed to maximize daylight, the home lets in plentiful natural light and fresh air with two private balconies totaling 250 sq ft of balcony space. From a cascading chandelier fixture that floats between the two floors to glass walls enclosing the staircase, light hardwood floors and floor-to-ceiling glass sliding doors around the home, the penthouse reflects daylight and ocean views from every corner.

Standout amenities include a private retreat with library, workspace and two-person hanging love seat. The master suite offers a roomy huge his and hers walk-in wardrobe in addition to a lavish bathroom suite with double vanity, separate toilet and freestanding soaking tub wrapped in glass – ideal for unwinding and watching the sunset during a nice bubble bath soak. RU5 Global provides private access to the 18th deck lounge, spas, bar and rooftop garden area. With furnishings all designed to be flexible, the home is adaptable with thoughtful storage space utilized throughout.
Outside the doors of the penthouse, the owners will have access to the luxury amenities aboard the sustainable vessel - world-class dining among 20 dining and bar venues, cultural enrichment programming, 24/7 state-of-the-art wellness and fitness facilities, a microbrewery, pet exercise area, movie theater, art studio, bowling alley, golf simulator, yoga studio, dance floor and even a marina landing with personal watercraft. MV Narrative also offers a first-of-its-kind world traveling school, teaching kids in small group learning pods and through interactive field trips as the ship circumnavigates the world and visits a variety of cultures.
To learn more about RU5 Global, visit storylines.com