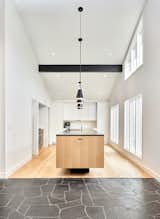 From mark hurley
1969 party house with all the mid century details.
One level
Vaulted ceilings
Sunken living room
Kidney shaped pool.
I'm a forward thinking mill worker/cabinet maker in Minneapolis. My wife and I had been looking for a house that we could remodel and showcase new ideas. The dream was a new build with a local architect but we needed a stepping stone to that.
I had been following a few Scandinavian builders and architects. Material authenticity, simplicity with traditional joinery was very appealing. I was also feeling very limited with applied handles. When I first was shown the Danish Dovetail drawer everything about it was made sense to me.
When we purchased the new home I was on my 5th commission with this new drawer style and cabintry. I had worked through most of the complexity.
The previous owners had started to remodel the kitchen of our new home but the project had stalled out. So a new kitchen and new design was an urgent matter.
To make a long story short, I came up with a plan that the kitchen would consist of a 16' island. Remove the galley and add more windows. Anchor it with the essential appliances.
I'm very happy to share with like minded design lovers. The finger-jointed drawers and use of real lumber is a passion of mine. I have tried to champion that sort of design in my own practice and would love to get some help from the folks at Dwell.
Thank you.
Mark Hurley