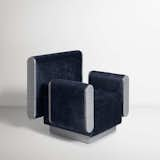 Quasi by Quba Homes: A material play attuned to Neo-classicism and Modernism
From Quba Homes
Unifying design elements from the noteworthy Neoclassic era with Modernism has conceptualized an eclectic approach to Quba Homes' latest collection, 'Quasi by Quba Homes'. Taking inspiration from the famous Western Cultural Movement, the furniture pieces manifest a clean, sleek and bold look. The collection features a range of products defined by symmetrical geometric shapes, minimal design, no ornamentation and fine lines.
The attunement of these two design styles has been amplified by the intricate marriage of avant-garde materials, including leather, metals like brass and even straw! Every furniture piece in this bespoke collection is customizable to suit the user's requirements. For every product, attention to detail and utmost comfort are prerequisites where quality speaks.
Products:
1. Long Legs Chair: The long legs chair by Quba Homes, with a curved brass backrest and sleek, long legs, radiates a polished appeal that can accentuate one's home bar extensively.
2. Ribbed Chair: Inspired conclusively by the Neo-Classical design style, this sleek brown chair exhibits elegance with a ribbed design at the back and a voguish fusion of bold colours.
3. Reclined Lounge Chair: Crafted with impeccable artistry, technique, and an earthy colour scheme, it describes our lounge chair the best!
4. Cube Sofa Chair: An extremely comfortable addition to your home, this sofa, in the form of a cube, flaunts a premium look with its unique play of two colour tones.
5. Ravelled Coffee Table: An exquisite marriage of two elements— wood and metal, makes these coffee tables striking and sophisticated. The combination of two simple materials merged together is the highlight of this simple yet elegant table.
6. Melded Coffee Table: A minimalist marriage of two materials, Brass and Mothers of Pearl, amplify the elegance of this coffee table.