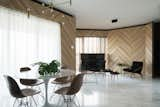 From Studio Wills + Architects
Project #9 is a partial interior fitting-out to an existing apartment. The original apartment was appointed in a palette of materials comprising of white marble flooring, dark woods and white plastered walls. The overall 'look-&-feel' was formal. The new homeowner in his 30s, however, prefers a lighter edge to the new interior and has a preference for mid-century home décor.
With the limitation set to the extent of the renovation, the design sets out to find a strategy that binds the new requirements and the existing interior as one. The intervention is a timber screen that stretches from the Foyer to the Living and Dining. It conceals the sea view upon entry, 'houses' a shoe cabinet, lighting, window dressing and enables the relocation of existing sockets and switches with minimal hacking.
The screen continues and culminates in the Master Bedroom to define the Study, the Platform Bed and Nook (former bay window). Collectively, the screen sets the 'stage' for arrival, entertainment, relaxation, dining and resting and forms a backdrop for the owner's collection of mid-century furniture.
The plan of the screen with its folding edges, is reflected in the elevational treatment in the form of diagonal patterns in alternating shades of the same timber that lends the space a sense of elevation and rhythm.
Brass accents such as light fittings, door knobs, edging and trimmings complement the timber screen while loose furniture, in a combination of blacken steel legs, timber, 'bridges' and 'binds' the screen and the original apartment of dark woods into a new unified WHOLE.