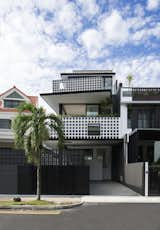 From Studio Wills + Architects
Project #6 is an A&A (Additions and Alterations) to an existing pair of semi-detached houses in the eastern part of Singapore. This pair of houses, 'mirrored' along a shared party-wall, became stark contrast in scale when one of the pair was rebuilt, dwarfing its other half. This spurred the owner of the other half to rebuild their house.
Planning Guidelines allow houses of 2 storeys and an attic with a permissible aggregate height of 13.1 m (4.5+3.6+5). As the guidelines are imposed on all houses within the neighborhood, every house will be of the same height if they are built to what is permissible. The design objective to make the house appear taller than what is permissible thus became the starting point of Project #6.
The permissible building volume is sliced by large canopies, with floor lines masked behind 'bands' of ventilation blocks formed by the amalgamation of clerestory windows and parapet walls in this building material, resulting in a house with multiple stacked volumes. The placement of ventilation blocks of diminishing sizes from the largest modules within the lowest 'band' to the smallest modules in the topmost 'band', accentuates the building height through false perspectives.
Ventilation blocks and deep overhangs, formed by large canopies, are common building material and element in this region evolved from a response to the climatic conditions. Their unique deployment in Project #6, results in a house which also appears like a sculpture rising amongst the 'Sea of Houses' in the neighborhood.