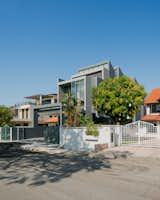 From Studio Wills + Architects
The brief requirement for Project #5 was a house maximized to the permissible building volume stipulated by planning requirements, a lap pool and a standard schedule of accommodation of Living, Dining, 6 rooms and support facilities.

The site faces a major thoroughfare, is flat and non-descript. Maximized to its permissible building volume, this can be a potentially over-sized house for a family of 4 (parents and teenage daughters) and their 2 helpers. The strategy of fragmentation was thus adopted to fragmentize the volume into comprehensible parts.

In order to accommodate a sizeable lap pool of 3 meter width along the side garden, the building had to be set-back by an additional 1 meter beyond the 2m building set-back line. This was considered to be undesirable due to the reduced building foot-print. Resolution was found by a shift of 1 meter back to the 2m building set-back line, in the upper levels, to regain the otherwise reduced building footprint.

This strategy was adopted in the making of the PLANS, SECTIONS and ELEVATIONS resulting in multiple 'gaps', between wall and roof planes, for light and ventilation. Roof planes were further tilted away from the western sun in order to shelter the interior spaces from the tropical heat and look to the distant whilst escaping the prying eyes of its immediate neighbors.

Shades of grey, contrasting materials and textures and lighting quality were appointed across the entire section of the building to accentuate the fragments and heightens one's experience of the entire house which oscillates between light and shade, open and enclosed, expansive and compressive spatial qualities.

Project #5 was a study in the making of tropical living spaces, in a dense urban environment, that is at once open yet private.