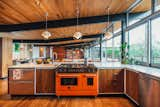 Post & Beam in Solana Beach
Credits
Landscape Design
Sotelo Landscape Architects
From Alexandria Abramian
McCulley Design Lab was enlisted to help bring this 1962 post-and-beam residence into the modern-day moment while retaining its midcentury focus on organic materials, indoor/outdoor flow and exceptional views. Working closely with the clients whose art collection was integrated into the design and whose design collaboration helped bring the project to life, they were able to update the home without losing its architectural ethos.

Much of the work involved undoing renovations and remodels done in the 1980s and 1990s that compromised the home's feel and flow. During the renovation, approximately 40% of the house was completely torn down and rebuilt. A new master wing was added, as well as new overhangs and additional design elements. The garage and guesthouse were torn down and completely rebuilt due to a faulty foundation but maintained the same footprint as the original. The rest of the house was stripped to the beams, posts and slab, and rebuilt.
The primary design goal was to create a warm environment scaled to the clients' lifestyle that honors the original structure's mid-century heritage while updating it in ways that make it appear that the home has never been "remodeled."
Key to the renovation was to continue with the original mid-century philosophy of blending interior and exterior living spaces while keeping ornamentation to a minimum.
To achieve this, certain zones were rebuilt, including the original kitchen, dining room, foyer, private office, library, decks, pool and other areas, while other elements were maintained. The renovation expanded the footprint of the home with a new master bedroom suite, pool room, guest house, fitness room and other areas.